The Timbers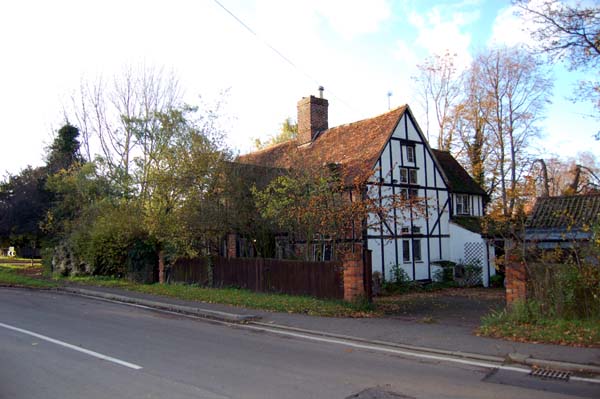 The Timbers in March 2007
White Hart Public House
An ancestor of mine, named John COLE (b.1733 Woburn, Beds, England, d.before 3 Oct 1764 Willington, Beds, England) was a Cider maker in Willington, Bedfordshire, England. I do not believe that it is a coincidence that a person named John Cole was the innkeeper at the White Hart Public House in Willington in 1816. The article presented below provides more information.

White Hart Public House: 1 Barford Road, Willington

The White Hart building (now known as The Timbers) seems to be ancient as information provided to Bedfordshire & Luton Archives & Records Service by J.Pratt in 1965 [who] stated [that] the date 1692 is carved on a brick over the front door. The public house was clearly in existence quite early as John Cole is known to have been the innkeeper in 1816. The Cole family seem to have run the business until the late 1830s as a letter to the Duke of Bedford's steward W.G.Adam in 1837 describes the White Hart as having been "lately done away with" meaning the village was without an alcohol outlet so three beerhouses were sanctioned. These were private houses, farms or other shops licensed to sell beer or cider, but not wines or spirits. From the closure of the White Hart until the opening of the Crown (i.e. at least the whole of the reign of Queen Victoria), Willington was without a public house.
References:
- CLP13: Register of Alehouse Recognizances: 1822-1828
List of Licensees: note that this is not a complete list. Italics indicate licensees whose beginning and/or end dates are not known:

1816 John Cole;
1822-1829: William Coles or Cole;
1834 – 14 March 1834: Susannah Cole;
14 March 1835 - : William Rutland

WebMaster: David@ColeCanada.com
/8.html