Princess Helena Cole (68.html)
Once upon a time, there was an old king of England with a beautiful daughter named Helena. The king was known as Old King Cole. Many children know the following "Old King Cole" nursery rhyme:



 Old King Cole
 Was a merry old soul
 And a merry old soul was he.
 
 He called for his pipe
 And he called for his bowl
 And he called for 
 His fiddlers three.
 
Old King Cole lived in Colchester in England. (Some spell his name as Coel,Coell or Coil.) He had a daughter named Princess Helena. Around the year 300 AD, a great Roman general named Constantius went to England to fight Old King Cole. The war ended happily by Constantius marrying princess Helena. They had a son named Constantine.

In Source 4, David Nash Ford describes Colchester as follows:
Caer-Colun is Colchester (Camulodunum). Most historians tend to see Colchester as a back formation from the River-Colne. However, it surely comes from Caer-Colonia. It is generally supposed to have been the centre of some kind of British Kingdom, since early Anglian finds from North-East Essex are comparatively rare. Some late Roman houses in Stockwell Street may have continued in use into the Dark Ages, whilst the find of an elaborate Germanic buckle may indicate the employment of foreign mercenaries to defend the town. Camulodunum is almost certainly the origin of the name of King Arthur's court of Camelot, though he certainly never lived here.

 In The Fairie Queen, the English poet, Edmund Spenser (1552-1599), in Book II x 59,5, wrote:
 
   Fayre Helena, the fairest living wight,
   Who in all Godly themes and goodly praise,
   Did far excell, but was most famous hight
   For skill musicke of all in her daies,
   As well in curious instruments as cunninge laies.
 



Years later, Diocletian and his associate Maximius were rulers of the Roman Empire. Maximus offered Constantius an opportunity through which he might reap great power. But, to do this, Constantius would need to marry another woman, Theodora, the step-daughter of Maximius. Helena, the wife of Constantius, urged him to accept, hoping that through this, their son, Constantine, might one day, also become powerful. Constantius finally agreed and wise Helena sadly went to live in a convent. (To Enlarge . . . . . Click it.)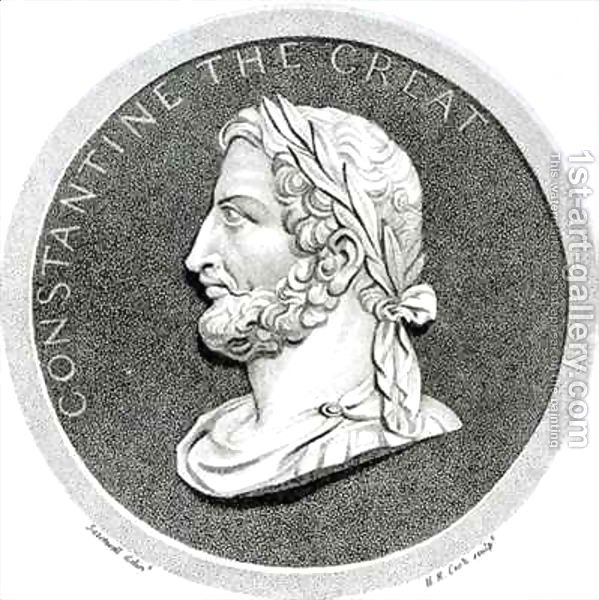 Portrait Of Constantine The Great

Constantius did become a Caesar over England and Gaul; and indeed Constantine became Emperor of the Holy Roman Empire (including England) from 306-337 AD. The great city of Constantinople in Turkey is named after him. One day, a vision of a big cross shining in the sky convinced him to become a Christian. As a result, he converted his large empire to Christianity.

In 1070, William I (the Conqueror), King of England, in his Domesday Book, wrote:

"William, King, greetes Walkesein, Bishop, and Hugon de Port and Edward Knighte, Steward and Algesime and Symon and Allfus, Perveiour, and Cole and Arderne and all the Barons in Hampshire and Wiltshire friendly - and Know ye that I give unto St. Peter and Walcholyne Bishop with all the convent to be as free as Bishop Alsyme was in the days of King edward, and to hold and enjoy all the privileges greate and small and I give commaundment that noe man for me or any other withstand or deny them the same, or disquiet that which I doe graunt in any wise unto St. Peter or Walcholyne Bishop or any of his successors."


 
  In 1630, in his rhymed list of Kings of England, John Taylor wrote:
 
        Coil king # 301
  Colchester's Duke Coil in the Throne invested,
  Was by Constantius Caesar much molested:
  Till Coil gave's Daughter to him for his Bride,
  And paid Romes tribute, that was long denide.
  The Lady was of beauty most divine,
  Faire Hellen, Mother to great Constantine,
  The King at Colchester, dead, laide in's Tombe,
  His sonne Constantius did supply his roome.
  
        Constantius king # 305
  Spaine, Italy, France, Britaines Emperor, (power,
  Foure yeeres he raign'd heere, with Majesticke
  True Honour was the ayme at which he shot),
  Just, Valiant, these reports his Actions got.
  
        Constantine king # 306
  Great emp'ror Constantine, surnam'd the Great:
  In all respects a worthy Prince compleate,
  The glorious Gospell, he ador'd and fear'd,
  Constantinople famously he rear'd,
  Maxentius, Romes great Tyrant, (most abhor'd)
  He made him flie from his Imperiall sword.
  Belov'd, bewail'd, high honor'd and admir'd
  In grace with God and men, his dayes expir'd.
 

 In his History of Essex, Vol. I. p.32, Wright says:
 
   Cole was a noble mon, and gret power hadde on honde,
   Erle he was of Colchester here in this londe,
   And Colchestre after his name is clepud this is understood
 



In Source 5, Geoffrey of Monmouth listed:
"Coel as a King of the Britons following the reign of King Asclepiodotus".
and wrote:
In the Historia, Coel grows upset with Asclepiodotus's handling of the Diocletianic Persecution and begins a rebellion in his duchy of Caer Colun (Colchester). He meets Asclepiodotus in battle and kills him, thus taking the kingship of Britain upon himself. Rome, apparently, is pleased that Britain has a new king, and sends senator Constantius Chlorus to negotiate with him. Afraid of the Romans, Coel meets Constantius and agrees to pay tribute and submit to Roman laws as long as he is allowed to retain the kingship. Constantius agrees to these terms, but Coel dies one month later. Constantius marries Coel's daughter, Helena, and crowns himself as Coel's successor. Helena subsequently gives birth to a son who becomes the Emperor Constantine the Great, giving a British pedigree to the Roman imperial line.
In the 4th century AD, during the reign of Constantine, his mother, Princess Helena, went on a crusade to Israel. She built many churches, including a church over the famous stable (of Christ's manger) in Bethlehem and she discovered the Cross of Jesus. For this reason, she is known to many as "Saint Helen of the Cross", the mother of Constantine the Great.


Arabian Nights
Helena is cited in a footnote on p42 of Arabian Nights:
" It is evident that Jebel Serbal dates only from the early days of Coptic Christianity ; that Jebel Musa, its Greek rival, rose after the visions of Helena in the fourth century ; whilst the building of the Convent by Justinian belongs to A.D. 527.
All of the above stories are somewhat fanciful and many elements are not supported by historic facts.


More Recent (2015) Notes:
In more recent times, my father, Victor Cole, ran a bowling alley. His father, Charley Cole, smoked a pipe and was caretaker of a church. My granddaughter, Emma, loves dressing up as a princess. Perhaps a descendant of my Cole family will be named Helena.

One of the conclusions in her 2000 AD Master's thesis, my daughter, B Cole, states:
"It is suggested that people's responses regarding stigma are similarly motivated by the need for self-affirmation, but at the level of social identity. Being a member of a stigmatized group may not reduce self-esteem because, as with personal self-esteem, various strategies may be employed in order to protect a threatened collective self-image".
Does this not explain great Constantine's fanatic imposition of his Christian stigma on his Empire?

Author: David KC Cole 2015 C Mar 24

Source 1: COLE: 200-1920 by Juliette Arden (65.html)
Source 2: Thesis by B (40.html)
Source 3: Children's Story: Princess Helena by David Cole (69.html)
Source 4: The 28 [original] Cities of Britain by David Nash Ford in 2000
Source 5: Historia Reggum Britanniae by Geoffrey of Monmouth
There is a Glossary in: Book II of the Faery Queene, Book 2
Mention of Helena in: Arabian Nights

/PrincessHelenaCole.txt

WebMaster: David Cole




Date: 2015 C Mar 26

/68.html