IS: Raspberry Electronics Projects (60.html)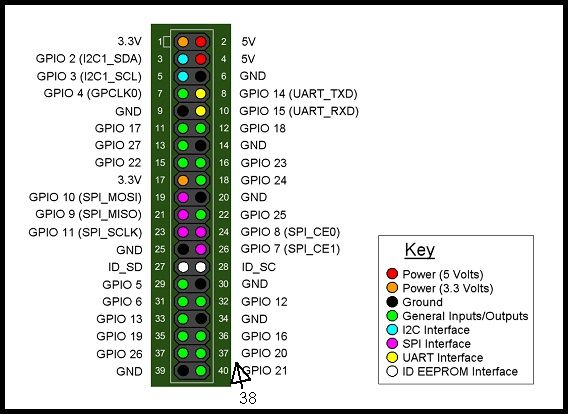 Raspberry Pi 2 B GPIO pins.
The above photo shows the Raspberry Pi 2 B GPIO pins. This layout is slightly different from the GPIO pins on the original Raspberry Pi because more pins have been added. Raspbian is the recommended Operating System for the Raspberry Pi computer. The first project listed below explains how to use Terminal commands to communicate with your electronics using the GPIO.
Raspberry Electronics Projects
Many electronics projects are possible with the Raspberry computer. The first of many are listed below

Raspberry Electronics Projects
as of 2015 D Apr 14



External Sources
Source 1: www

MS Windows 10 IoT Kit with Pi - US $115.00

From: Adafruit - 2015

WebMaster: Ye Old King Cole



Updated: 2016 A Jan 05

Created: 2015 D Apr 14

/60.html