Gen: Cole Family Genealogy (33.html)
The Cole Family
This photo was taken on 15 May, 1999, the day that Barbara COLE married Guy MARCOUX.


(To enlarge .....Click it)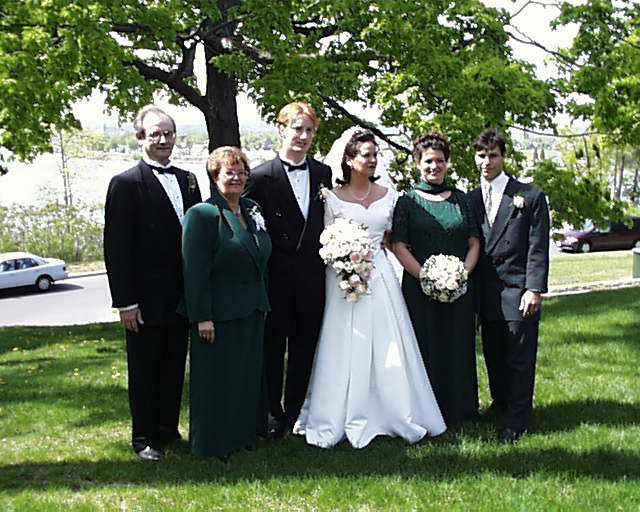 The Cole Family
L-R: David COLE, Yvette COLE nee Richard, Guy MARCOUX, Babara COLE, Theresa COLE, Tommy VAVOUGIOS
(The FamilySearch-ID for Victor Cole is L69G-PMF )


TABLE OF CONTENTS
The Cole Family
Current Genealogy Research
Tips and Recommendations about Genealogy Research
Special Persons Named COLE
Additional Family Information
Other Genealogical Information
My Family Tree Web Sites
Non-Free Genealogy Web Sites
Coat of Arms
Images/Photos
A iGalri
B Tree Leaves By Cole
C Portrait Gallery
D LDS Family Search
E Cole's Memorials
F Find A Grave Tombstones
G WikiTree
H Cole's First Photo Gallery
Additional Information
Additional/External References /Sources
My Current Genealogy Research

As of the year 2014, I am researching the Cole family from Bedfordshire, England. My oldest known paternal ancestor, John Cole, was born in 1733 in Willington, Beds.,England. On my mother's side, I am researching Goulton and Goatcher from Yorkshire, England. There are currently over 13,000 persons in my database, many with referenced sources.

On my wife's side, I'm researching Acadian ancestors who settled in the Magdeline Islands in Quebec, Canada, especially those who lived in the island of Havre-aux-Maisons. Acadian ancestor surnames of interest to me include Arsenault, Boudrot, Chiasson, LeBlanc, Poirier, Richard, Theriault, Vigneault and others (N.B. courriel en français est le bienvenu). Delaney ancestors living in Magdeline Islands are also of interest. Many Acadian ancestory lines go back before 1700. Marriages through ancestors named Payne lead back past William the Conqueror (1028-1087) in my database.

Special studies of Cole in Bedfordshire and Goulton in Yorkshire are underway. Connection to a full line of the Ticheborne family is included. Sanborne, an early settler of New Hampshire, is also included.

The most recent versions of my genealogy data are in the GEDCOM format. Unfortunately, many years ago, I attempted to use software to automatically edit my GEDCOM. (Perhaps it was an attempt to correct the format of place names.) In any case, the resulting errors were minute but very significant. The errors were not immediately noticed because they only occured in the French portions of text. The nature of the error is that every accented character was replaced by an unrelated capital letter. The word "élève" might appear as "FlGve" which makes it unreadable by anyone unfamiliar with the error. I resolved to not add more data to the GEDCOM files until this error was corrected.

However some data that I have encountered since then has been too important to permit it to be possibly lost. Such data has been added as "Post-Em" notes to my database named "davidcole3" at the WorldConnect site shown below. One day, after the error is corrected, I will add all of these "Post-Em" notes to my GEDCOM. A list of the "Post-Em" notes was recently collected and a list of them (not including the data in them) was loaded into Article 9 on my "ePC Articles by Old King Cole" site, listed below. I have made some slow progress on correcting the "accented characters" error mentioned above. But progress is slow.

My preferred genealogy software programs have changed over the years. For many years, my favorite was Family Tree Maker. This was because I found it very simple to add descendant data and sources. The number of extraneous keystrokes to add data was minimal. However, I have found that some other software programs report some non-conformance with the GEDCOM format output by Family Tree Maker. Also notes attatched to people had spaces inserted in the middle of words when the GEDCOM from Family Tree Maker was imported into other software. I particularly liked the printed format of the pedigrees that the free software, PAF, used. Since a few years ago, the LDS Family Search site has discontinued its recommendation of PAF. Now one of its favored software programs is Legacy which is downloadable for free from Family Search. Unfortunately to view descendancies, the free downloadable Legacy must be updated to the non-free version of Legacy. When using Legacy, a simple click causes an automatic search of the Family Search data on its web site. This feature is very powerful and very useful.

While I have been avoiding the updating of my GEDCOM data, I have turned my attention to the on-line systems that permit multi-user interactive updating of "one tree for the whole world" systems. There are two such systems that can be used for free that I am using. One is at Family Search and the other is WikiTree, both which are listed below. On the Family Search "one-world tree" I have identified the pedigree lineage going all the way back to William the Conqueror and even to Charlemagne. A full GEDCOM can never be easily added to such a "one-world tree". So progress is slow as this must be done one ancestor at a time.

Recently, I have been writing a number of articles about various topics including genealogy, programming and the uploading of captioned photos to be web. Most of these articles are stored at my site named "ePC Articles by Old King Cole" with a webmaster alias of "Thou Old King Cole" or "Ye Old King Cole". I have chosen this nickname to facilitate the remembering of a more notorious name than my real name. I am not trying to hide my identity, quite the contrary, I am trying to increase my readership. I have found that one of the best ways to acquire family-related genealogy information is by publishing my data on the World Wide Web on the Internet. I have published my data on 3 main sites: WorldConnect, GenCircles and Family Tree Maker. The latter two are disappearing or have already disappeared. WorldConnect is being housed by Ancestry, who have kept their promise of keeping it operational and free. Unfortunately, Ancestry is cluttering up the presentation of the WorldConnect data by inserting bigger and bigger (and louder and louder) ads, it seems. By my publishing of this genealogy data, more people searching for family data can see my data and either increase their knowledge or contact me directly. From time to time, I also review close and distant family member names on the numerous public web sites. Occasionally, I notice new data or new persons who are publishing data on the Internet. Unfortunately, there are many, many sites to watch. I do not wish to spend thousands of dollars on my genealogy interests, so I do not have paid memberships at the most popular non-free sites. The two main pay-to-use sites for which I am tempted to pay are Ancestry and MyHeritage.

Last year, I have purchased a US $35 Raspberry computer that I use to surf the web using its Raspbian Operating System (which is a version of Linux). Unfortunately, its main web browsers (named Web [or Epiphany] and NetSurf) cannot display all web pages probably due to their non-support of both Java and some Adobe functionality. Chromium runs on the Raspberry but fails to display large complex displays such as the World Family Trees at Family Search. On the other hand, WebSurf provides two powerful features:
searching for a phrase within the current site; and making a full copy of a web page (even large web-pages). The copy of a web page that is produced includes local copies of all images referenced by the web page. The resulting web page can be browsed without an Internet connection (of course web links cannot be accessed in that situation), but the whole web page can be viewed standalone.

But what I find most amazing about the Raspberry (besides its price) is that it includes Mathematica for free. Mathematica is a very powerful programming language that has been very well defined by Stephan Wolfram who began its development in 1988. Mathematica has very simple basic syntax because its programs are primarily functions of functions. The number of predefined available functions is amazing, numbering over 5,000. These functions cover many, many, many fields including some very powerful functions e.g. locating edges of objects in a 2 dimensional image or pattern-matching of characters to find words in the dictionary. Recursive function definitions are also supported. The mathematical functions include trigonometry, logic, set theory, calculus (differentiation and integration of formulae not just data), statistics etc. Infinity is a valid number in Mathematica, (1/Infinity returns 0). Mathematica also includes functions that make use of data elsewhere on the Internet. Examples of data include, historic time-dependant values of stocks, dictionaries, geographic statistics and many others. There is a related Web Site named Wolfram/Alpha that accepts questions or queries, analyses each question, then finds an answer, often it succeeds. But mathematical questions still yield the best results. Wolfram/Alpha is free but it quickly suggests that you upgrade to the chargeable Professional version. I have written and published some introductory articles about Mathematica in my collection of Articles. The Raspberry computer is easy to attach to electronics projects, making it the computer of choice in many secondary schools and by electronics enthusiasts. The Mathematica programs can easily turn on and off lamps (LEDs) or read switches that are connected to the Raspberry. Many inexpensive electronics boards are available for use with the Raspberry. Robots have even been built around the Raspberry. The evolution of the Raspberry began around 2012. Recently a quad-core processor was included and 1 Gigabyte of on-board Ram was released in Feb 2015. Being able to use an inexpensive HDMI household TV set as a monitor on the Raspberry is a major plus.

As stated earlier, many of these topics are discussed in my various articles published on my "ePC Articles by Cole" web site shown below. But I must also mention my on-going development of a site to house captioned photos. My iGalri.com site permits searching for photos by any partial word, full word or phrase in its caption. Searching for "stones" finds pictures of "tombstones" "grave stones" etc. Searching for "my mother" returns only photos of "my mother", the mother of David Cole. Searching for "Goatcher" finds all photos containing anyone named Goatcher. The iGalri.com site also permits anyone to upload a captioned photo to its site using their computer or iPad. When using an iPad, anyone can take a photo with the iPad, dictate the caption into the iPad and then click a button to immediately upload the captioned photo to the Web with the dictation having been converted into a caption of text. Search phrases can also be dictated into the iPad. As of April 2015, I have approximately 700 captioned photos stored at iGalri.com. My site named "ZodiacEtc.com" begins with an easy link to the iGalri.com search window. My earlier attempts at uploading captioned photos to the Web can be seen at by Googling "TreeLeavesByCole". One day I plan to improve iGalri.com to allow people to modify captions or to delete photos that they have uploaded.

Tips and Recommendations about Genealogy Research
DC0001

NAME SYNTAX / PRESENTATION used by the Author

Most names in this database have the given names in lower case and the surnames in Upper Case. The following exceptions exist.



Primary Names and Alternate Spellings of Names

This database has been adjusted so that the reader can easily distinguish "Primary Name" of a person from an "Alias Name" or alternate spellings of names. The "Primary Name" of a person is the spelling of the name that the author believes to be the most probable or the way the person would have preferred to spell it. The "Primary Name" of a person has the surname in upper case. The "Primary Name" usually has the given name in lower case. Other alternate spellings of names of persons have the surname in lower case. Do NOT create a separate person for each name.

If a person's name can be spelt in more than one way, DO NOT do the following:

Do NOT include both spellings in place of the surname
1) Do NOT enter as "Peter \SMITH or SCHMIDT\"
2) Do NOT enter it as "Peter SMITH/SCHMIDT"
3) Do NOT enter it as two separate persons
eg "Peter SMITH" and "Peter SCHMIDT"
4) Do NOT enter "AKA" as part of the sur name
eg "Peter SMITH aka SCHMIDT"
Instead, enter two separate Facts for the same individual
eg
Fact Name 1 "Peter SMITH" flagged as "primary"
Fact Name 2 "Peter SCHMIDT"





Direct Ancestors

This database has been slightly adjusted so that the reader can easily determine the individuals that are direct ancestors of the author (DAVID KC COLE) or his children or his wife. All direct ancestors of the author have their first given name spelled in upper case (i.e. capital letters). For example, the person for whom these notes were originally written is named "JOHN COLE", my oldest known Cole ancestor. When examining the name index, most persons named "John COLE" have their first given name printed in lower case. Middle given names will always appear in lower case. Unfortunately, some genealogy software (and some web sites) do not store or display the names as they appear in the database used to load them. So sometimes, all given names are automatically converted to or are automatically displayed in lower case. My coding maxims apply: "Software coders make the rules." or "Software users must play according to the rules of the coder.".



Initials and Nick-Names

Initials that represent abbreviations of given names are not usually followed by periods.

Nick-names are entered following the first given name and are presented within parentheses. For example "CHARLES (Charley) Percy COLE".



Compound Surnames

Surnames that include a space have the surname delimited by "\" (back-slashes). For example: "Baron \DE ST. CASTIN\"

Compound surnames such as "McEwen" or "DeLaMare" are not completely converted to upper case. They appear as "McEWEN" and "DeLaMARE".



Titled Persons

Titles are entered in the Lineage screen in Family Tree Maker. For example: the name would be entered as "Tom Jones" not "Rev. Tom Jones." The "Rev" would be entered in the Lineage Screen.

DIT names

French Canadian "DIT" names are usually treated as if the "DIT name" were a nick-name. For example "ALEXANDRE (DIT Boutin) RICHARD"

Royalty

Names of kings do not include a surname, but instead the title such as "King of England" is usually entered instead of the surname. For example: "William I (the Conqueror) \King of England\"

Unknown Parents

When the name of only one parent is known, the unknown parent is unnamed unless the wedding date is known. If the wedding date is known, it should be included and the name of the unknown parent is entered as "? ?".

If the names of both parents are unknown, the parents should not be defined at all.

If all given names are unknown but the surname is known, the unknown names should be represented by a "?". For example: "? Cole" should be the result.

If a given name is known but the surname is unknown, the unknown name should be represented by a "?". For example: "ADAM ?" should be the result.

Amerinds

If it is desired to indicate that a person has some "Amerind" blood, this should be indicated by the word "Indian" in place of a Nick-Name. For Example: "Catherine (Indian) AMBROISE".

Twins

If it is desired to indicate that two children are twins, the word "twin" should be included in parentheses as if it were a nickname. For francophones the French equivalent can be used e.g. (jumeau).

Eliminate Islands of Persons

Every person in the database should be related to every other person either by blood or by marriage. No "islands" of names should exist. Only one exception is permitted. The exception is "Person \(AAA Unrelated)\". This "special person" exists so that it can be selected as a "simple test" to see how many generations are included in reports. This is necessary for Family Tree Maker because the user cannot control the number of generations that are to be included in any report before the report is requested. The problem occurs when a huge report is accidentally requested. Such reports sometimes cannot be aborted with some software packages.

Unknown Groups of Children

To represent unnamed or unknown children, simply write "children3" or "siblings2" or "daughters4" or "son" or "daughter". If the number of persons is known the number should be included as a suffix, as shown in the previous examples. This can also be done as a reminder to come back and enter the names of all the children when you have time to do it well.

Related vs Unrelated Persons

When some confusion exists about whether "John SMITH" is related to the author (or not), include the word "unrelated" after the given name. For example write "John COLE" if the person has a common direct ancestor with the author of the database. But write "John (unrelated) COLE" if it is important to note that the person does not have a common direct ancestor with the author.

Roman Catholic religious names

A Roman Catholic (or any) person's official name on the birth certificate or baptismal certificate might be "Marie-Louise Yvette Richard". In this case, if the familiar name is "Yvette", then the name should be entered into a genealogy database as "Yvette M-Louise RICHARD". It will then be sorted and presented correctly. For example, if the name must be abbreviated to fit in a box on a chart, the result might be "Yvette RICHARD". The official name might have resulted in "Marie-Louise RICHARD". An official male name of "Joseph-Elphege Jacques Richard" should be converted into "Jacques J-Elphege RICHARD" for use in the database.

Temporary Names

Occasionally it may be necessary to temporarily indicate that a woman of many that are named "Jane White" is married to one of many men named "J Smith". To "tag" the exact "Jane White", temporarily change her name to "Jane mJSmith White" until the confusion is eliminated. The "m" means "married to". Similarly, to tag a person with their father's name, temporarily change the name to include the father's name. For example "John aPeter Thompson". This means the "John Thompson" whose father is named "Peter". In the Acadian world where duplicate names often exist, they commonly say "Jean a Pierre a Simon RICHARD". It means "Jean who is the son of Pierre who is the son of Simon RICHARD".

Naming a Baby

The first baby in a family or the first male baby is often assigned a middle name that is the same as the mother's maiden surname. For example "" if the mother's maiden name is "Charlotte Rowe STRUTT", the first baby might be named "Suzan Strutt GODWIN". This indicates pride in the marriage of the two families. It also provides a clue as to the mother's maiden name in societies where the wife changes her surname into her husband's surname. This clue is sometimes very valuable when genealogists are searching for the mother's maiden surname.

Names on Tombstones

1905-1960
His Wife
"Charlotte Rowe GODWIN"
(nee STRUTT)
1910-1975
As shown, a date range is preferable to "Died Age 65, Born 1910". Also, future searchers might need to know that Charlotte was his wife, not his daughter.

Consider the following tombstone engraving
seen at Selby Abbey, Selby, Yorkshire, Eng.
******************************************
Sacred to the memory of Elizabeth
Banks wife of James Banks Dishturner
who departed this life the 8 day
Dec 1810 aged 42 years.
Also Sarah daughter of the above died
6 of September 1799 aged 1 year.

Reader take care for thou must shortly be
Mouldering in the dust like me.

Also Mary Banks Wife of the Aforesaid
James Banks who departed this life
the 3 day of Dec 1852 aged 85 years.
Also the above named James Banks
of Selby who died August 10 1858
Aged 93 years.
******************************************

It says a lot but ... it also leaves some things unsaid.

Validation

To see how the software will treat any person's name that you enter (especially the surname), simply look up the person in the person pick-list (i.e. the person index).
******************************************


Is there a connection between.....and.....?
Often one asks if two persons (referenced in two different sources) are the same person. If 5 or 6 facts agree, the probability of a match is very high.
For example
James K. BANKS 1765-1858
Born in: Selby, Yorkshire, Eng.
Died: August 10, 1858
Father: William BANKS
Wife: Mary nee SMITH
If 5 of these facts agree and none or one is absent, the match is very probable.
If a single contradiction exists, a non-match is extremely probable.


Special Persons Named Cole
Other notable related persons and items are listed below. Persons (unknown relationships to David Cole) with surname COLE in previous centuries:

Old King Cole
There was an old king whose surname was Coel. He was king of Colchester, England. Some English myths say (incorrectly) that he had a daughter named Helen or Helena who was the mother of Constantine the Great. But most historians say that the mother of Constantine the Great was born in Europe or western Asia.

William COLE
William Cole & Ysabella his wife are named in the Assize Roll of the County of Cornwall, in the third year of King John (a.d. 1201)

Roger COLE
In the fourteenth year of King John (1212) Roger Cole granted to Edith, wife of the late Ralph Burdeville, a capital messuage and lands in Hoke___, in the County of Devon, to be held of him for the term of her life, with remainder to himself and his heirs; and in 1219 mention is made of Roger Cole in a Fine Roll relating to a third part of one Knight's fee in Hardwinesleigh, in the same county. /DC0001

Sir William Cole of Enniskillen (Knight) (1585-1653)
It is possible that this William Cole, who lived in Enniskillen, Ireland was an ancestor of David KC Cole, but this has not yet been proven. Early in his life, he was known as William Cole of Fermanagh. His birth date is controversial. He Married Susanna Croft in 1605. He married Catherine parsons in 1615. He is well-known due to the details in his obituary:
COLE, Sir WILLIAM (d. 1653), provost of Enniskillen, was descended from the ancient house of Cole in Devonshire and Cornwall, mentioned in a deed of William the Conqueror. He was the only son of Emanuel Cole, third son of Thomas Cole of London, and Margaret, daughter of Mr. Ingram, and aunt of Sir Arthur Ingram, who was knighted in 1629. He was the first of the family who settled in Ireland, and early in the reign of James I fixed his residence in the county of Fermanagh. On 10 Sept. 1607 he was made captain of the long boats and barges at Ballyshannon. On 16 Nov. 1611 he received an assignment, as undertaker of the northern plantation, of the property of Dromskeagh in Fermanagh, containing a thousand acres of escheated lands, at the crown rent of 81. English, to which were added 320 acres in the same county. On the incorporation of the town of Enniskillen he was elected the first provost. On 5 Nov. 1617 he received the honour of knighthood (Calendar Carew Manuscripts, 1603-24, p. 385). On 21 Sept. 1623 he received a grant of the castle together with two-thirds of the islands of Enniskillen by lease for twenty-one years at a yearly rent of five harps (State Papers, Irish Series, 1615-25, p. 285). On the muster-roll of 1618 he appears as supplying twenty-four men, six muskets, eight culvers, ten pikes, and twenty-two swords. In 1639 he was chosen to represent Fermanagh in parliament. He was the first to give notice to the government of the rebellion of 1641, and on its outbreak received the commission of colonel of five hundred foot, most of whom were raised in Fermanagh, and was named governor of Enniskillen. He specially distinguished himself during the war, and when, in January 1643, his regiment was in need of provisions, fed the men at his own expense. In 1644 he was accused by Sir Frederick Hamilton of having traitorously concealed his knowledge of the intended outbreak in Ireland above a fortnight after he had obtained his information, and of having assumed the command of nine companies while he had only received a commission for five, but he was acquitted of the charges. He died in October 1653, and was buried in St. Michan's Church, Dublin. He was twice married : first to Susanna, daughter and heiress to John Croft of Lancaster, relict of Lieutenant Segar of the castle of Dublin, by whom he had two daughters ; and second to Catherine, eldest daughter of Sir Lawrence Parsons of Birr, King's County, by whom he had two sons.

[The Genealogie or Pedigree of the Right Worshipfull and Worthie Captaine Sir William Cole, of the Castell of Enneskillen, in the countie of Ffirmanagh, in the Kingdome of Ireland, knight, by Sir William Segar, Garter, and William Penson, Lancaster, with sub-additions under the certificates of Sir William Betham and Sir J. Bernard Burke, Ulster Kings of Arms, copied from the original roll in the possession of the Right Honourable the Earl of Enniskillen, privately printed, 1870 ; Cole's Genealogy of the Cole Family, pp. 43-9 ; Lodge's Peerage of Ireland (Archdall), vi. 43-6 ; The Information of Sir Frederick Hamilton, knight and colonell, given to the Committee of both Kingdoms concerning Sir William Cole, knight and colonell, with the Scandalous Answer of the said Sir William Cole, knight, together with the Replication of Sir Frederick Hamilton to the said scandalous and recriminatory pamphlet of Sir William Cole, with divers Letters and Depositions, &c., 1645 ; The Answer and Vindication of Sir William Cole, a knight and colonell, presented to the Right Hon. the Lords and others the Committee of both Kingdoms, and by them sent to be reported to the Honourable the Commons House of Parliament of England at Westminster into a charge given in by Sir Frederick Hamilton, knight, to the said Committee against the said Sir William Cole, 1645.]


Thomas COLE (1494-1571)
Thomas COLE is a descendant of Sir William Cole of Enniskillen (Knight) mentioned above. He married Elizabeth Hargrave. It has not yet been proven that Thomas COLE is among my ancestors. But, in fact, he is definitely related to my wife, Yvette Louise nee Richard Cole albeit in a very indirect way. But due to this (albeit circuitous) relationship, I have included him (and many others in this line of COLEs) in my database at WorldConnect. This Thomas COLE can be found in my Source 4 listed below.

The complete line of COLEs down through Sir William COLE of Enniskillen (Knight) and Thomas COLE was documented in a book by James Edwin-COLE in Source 5. I have created a family tree of the main persons named COLE in this book. It can be found on the Internet at my WorldConnect database named "ColesOfDevon". Source 6 will take you to this same Thomas COLE in that database although the two birth dates do not match. The names of their wives certainly do match.

John Cole (b c 1733-1764)
He is my oldest known ancestor named COLE and was born in Willington, , Beds., England. He was buried there on Oct 3, 1764. All that is known about his occupation is that he was a cider maker. He married Sarah PECK on Oct 5, 1755 in St Paul's Churchin Bedford,, Beds., England. Sarah PECK was born before 1743. They had 3 children: Thomas, John and John. Son Thomas (b. before May 6, 1759 in Willington,,Beds., England) is an ancestor of mine. Many of their descendants lived in Hawnes, Beds. (now spelled Haynes). In fact there were two distinct sets of persons named COLE who lived in Haynes in the 1700s. I have not been able to establish common ancestry between the two sets. But I have included both sets of these COLEs in my database named "davidcole3" at WorldConnect. A related ancestor named Daniel Cole from Hawnes (Haynes) is listed in Source 2 below. An unrelated ancestor named John Cole is listed in Source 3 below. I do not include completely unrelated people in this database, but fortunately, some intermarriages between the 2 sets of Coles permits them both to be included. The "Notes" associated with Source 24 describe these intermarriages and the complex relationship. In fact there was a third person named COLE who lived within 10 miles of Hawnes. She was born "Henrietta Frances COLE" but after marrying Thomas Phillip Weddel Robinson de Grey, she became Lady Henrietta Frances de Grey. He inherited the Wrest Park manor located near Silsoe which is located 3 or 4 miles south of St Mary's church at Hawnes Church End. Their grandson, the 7th Earl Cowper would inherit the Brocket Estate before 1900. He owned the Brocket Estate which included WaterEnd Farm and WaterEnd House. See Source 25 (WaterEnd House) for a more detailed account of how James William COLE (1851-1923), a descendant of John COLE (b c1733-1764), would eventually rent WaterEnd farm from the grandson of Henrietta Frances COLE (1784-1848). Again, their relationship, if any, is unknown. They are very indirectly related, barely close enough to appear in the same database. One day they could all be included in the webmaster's database.

John COLE at WindMill Inn in Luton In the Kelly Directory.... of 1885 (Source 16), on page 168, the following establishment is listed:

Windmill Inn (The), John Cole, Windmill Lane, Luton

Cole in "Royal County Directory of Bedfordshire,. . .. ."
Pages mentioning Cole in Source 17 Royal County Directory of Bedfordshire, Buckinghamshire, Berkshire by J. G. Harrod & Co., 1876

| | |
| --- | --- |
| pg | Contents |
| i | ..Haynes.... in the list of towns in Bedfordshire |
| ii | ..Willington in the list of towns in Bedfordshire |
| 13 | ..Town of Barton-Le-Cley |
| 47 | ..Town of Biggleswade |
| 49 | ..Town of Wilshamstead |
| 61 | ..Town of Cranfield |
| 79 | ..Town of Haynes |
| 111 | ..Town of Maulden |
| 117 | ..Town of Potsgrove |
| 143 | ..Town of Willington |
| end | ., |
p 13
Town of Barton-Le-Cley
Hill Mrs Martha Cole, Farmer

p 47
Town of Biggleswade: General trades includes:
Cole Charles, beer retailer, Back street
Cole Charles, beer retailer and market
gardener, Rose lane
Cole M. vict. the "Black Swan," Bridge
street

p 49
Town of Wilshamstead
Cole Joseph, Farmer

p 61
Town of Cranfield
Cole Josiah, Farmer Cotton End

p 79
Town of Haynes: General Trades includes:
Cole Mrs. grocer
Cole Miss M. draper
Cole Mrs. Thomas, vict. "Pack Horse"
Cole W. corn merchant and mealman

p 111
Town of Maulden
Cole Edward, grocer etc
Cole Frederick, boot and shoemaker

p 117
Town of Potsgrove
Cole William, farmer

p 129
Town of Southill
Cole John William, assistant overseer, Stanford

p 143
Town of Willington
Willington is a parish and village 4 miles from Bedford, and 2.5 from Cardington railway station, in the hundred of Wixamtree, union and country court district of Bedford, diocese of Ely, archdeaconry and rural deanery of Bedford. The church, dedicated to St. Lawrence, is a handsome Gothic structure, with tower containing 5 bells. The living is a vicarage, annual L285 with residence and 17 acres of glebe land, in the gift of the Duke of Bedford; the Rev. Augustus Orlebar, M.A., is the vicar. The Wesleyans have a chapel. There is a National school; Mrs. Lumm, mistress. The acreage is 1,648, of which the chief owner and lord of the manor is His Grace the Duke of Bedford. The population is about 275. The Manor House, now in the occupation of Mr. Henry Purser, is a portion of the ancient residence of Sir John Gostick, Master of the Horse to Henry VIII, who once held a court therein. The nearest money-order, telegraph office, and post town, Bedford



 Orlebar Rev. Augustus, M.A. vicar, the  |      FARMERS
   Vicarage                              |
 Purser JOhn, Esq.                       | Brimley Joseph, Road farm
 Barcock William, shopkeeper             | Brown Thomas, Goggs' hall
 Nottingham William, shoemaker           | Harris William, croots' farm
 Sale Thomas, shopkeeper                 | Palmer Samuel, Mill farm
 Walker john, dairyman                   | Purser Henry, Manor house
 
Early Cole Families in America
Source 18 Describes some very early Cole families who settled in America in the 1600s and their descendants.


Additional Family Information
PAUL
Information about my aunt, Gladys (Glad) nee Cole Paul, and her husband Albert (Alb) William Paul was recently found in Source 1 (below). It confirms that they were important members of Wesley United Church in Mimico, Etobicoke, ON, Canada in 1964. In lieu of a funeral, the Celebration of the life of Gladys Kathleen PAUL (August 11, 1914-October 5, 2003) was held on October 8, 2003 in Wesley Mimico United Church, 2 Station Road, Toronto, ON, Canada, M8V 2P9. Her ashes were interred at Glendale Memorial Gardens later that week.

GOULTON
A Goulton family did live on the Walcot estate (c 1647) but not much is known about them for certain. Some of the confusion appears on a page of the book cited below in Source 8. Information about an Elizabeth DENMAN was found in The Johnson MSS. Correspondence of The Hull Quarterly and East Riding Portfolio (Source 8). A copy of its p185 is shown in the photo in item 19 below. The page says:

.... Briefy glancing at the falsehood contained in the assertion that this Thomas SWAN was Alderman of Hull, we proceed to where the document informs us that in 1647 or 1648, Nicholas DENMAN, Thomas SWAN, and Richard ELWAYS, of Hibblestow, near Brigg, purchased a "Wyck nempte Whalcote, " and that they both took up their abode at Walcot, "a comeyn to Hull atte ye seyde Fyttyn. " I don't believe that Richard ELWAYS, of Hibblestow, every existed, and supposing the man to have had anything to do the with purchase of any property at Walcot, he has been very careful to keep his name out of all deeds relating thereto. It is quite true that in 1647, Nicholas DENMAN and Thomas SWAN purchased the greater part of Walcot, but neither of them ever lived there. Then we are told of a daughter of Nicholas DENMAN's "a wayntedimber bodie. " who used to go over from Walcot to Hull on Market days, and every time she went, had every temptation to marry three young men in Hull, but, so far from marrying them all, she did not marry one of them, but married a "Mayster Nichol. " This man we are told, was a "woll stapler, " at Lissett, near Bridlington, he "deyde consumpshonarie, " and was "funerated " at Bessingby. That Nicholas DENMAN had a daughter, who married a GOULTON, is true, but she did not marry him in her father's lifetime, as the [foretold] account would lead one to suppose. The whole truth is this: Elizabeth, daughter of Nicholas DENMAN, married for her first husband Edward CHAPMAN and for her second husband Christopher GOULTON, a Whitby gentleman, and she and her second husband were both buried at Whitby. It is a curious fact that ........
(p 185 of The Hull Quarterly and East Riding Portfolio.)
This article is doubly interesting to me because a CHAPMAN family was very close to my COLE family (through intermarriages) near Bedfordshire. My father named Victor Charles COLE married my mother named Marion Isabelle nee GOATCHER, whose grandmother was Sarah Jane nee GOULTON GOATCHER. Apparently families named CHAPMAN and GOULTON were also close in earlier times.

Philip FitzRobert de Gay (de Gai), Castellan of Cricklade
Philip FitzRobert (Source 26) was the son of Robert de Caen. The name of his wife is spelled many ways including Sezilla and Cecilia. Some sources state that he was not the son of Robert de Caen. However the following story of Faringdon Castle found in David Nash Ford's Royal Berkshire History (Source 10) seems quite definite.
The following information was found at the Geni.com website (Source 9)

Birth: 1122
Bristol, Gloucestershire, or Wooton Basset and Broadtown, Wiltshire, England
Death: 1147 (25)
Wootton Basset, Wiltshire, England
Immediate Family:
Son of Robert de Caen, 1st Earl of Gloucester and Maud fitzRobert fitzHamon de Creully, Dame de Creuilly
Husband of Cecilia de Berkeley
Father of Aliva or Aline de Gai
Brother of William FitzRobert, 2nd Earl of Gloucester; Roger FitzRobert, Bishop of Worcester; Maud FitzRobert, Countess of Chester; Hamon Fitzrobert, of Gloucester; Richard FitzRobert, Sire de Creully and 1 other Half brother of Robert fitzRobert, nat. s/o Earl of Gloucester; Richard, Bishop of Bayeux and Mabel fitzRoy, Illgt. d/o Robert de Caen
FARINGDON CASTLE: WHERE SON BETRAYED FATHER

In 1144, Robert / Earl of Gloucester built a castle in Faringdon Clump (an old Iron Age hill fort) at the behest of his son, Phillip. Phillip had been holding Cricklade Castle (Wiltshire) for his aunt, the Empress Matilda, but had suffered badly from Royalist attacks and wanted another stronghold in the Thames Valley. Unfortunately, no sooner had the place been built than King Stephen arrived to lay siege to it. Robert refused to send reinforcements and, after only a four day siege the castellan, Brian de Soulis, capitulated. Soon after Phillip, exasperated by his father's inactivity, surrendered Cricklade and joined King Stephen's cause. Rumor had it that the two Imperialists had conspired together, letting the enemy into Faringdon in order to safeguard their own futures.
KINGSLAND
Source 13 is a photo of Aunt Doll. Her proper name is Gladys YEO nee KINGSLAND. She was the youngest sister of Florence COLE nee KINGSLAND. Ths photo was taken by Victor Charles COLE in front of the home of Aunt Doll in Barnett, England in the 1960s.


The following pedigree for Charles Robert KINGSLAND was sent to me by Robert HUNT who married Margaret CRUESS.


		parents and grandparents of Charles Robert Kingsland are:
		----------Giles KINGSLAND m 13 Oct 1808
		-----Giles William KINGLAND (1821-1896)
		----------Sarah WALFORD
		Charles Robert KINGSLAND (1862-1932)
		----------Isaac DOLMAN m 10 Jul 1815
		-----Ann DOLMAN b.8 May 1831
		----------Elizabeth FREEBURN (1796-1877)
		

Source: Robert HUNT (perezia_at_rdplus.net)
Robert HUNT married Margaret CRUESS whose maternal grandmother was Flora Jessie KINGSLAND (b.1870). Flora Jessie KINGSLAND was the sister of Charles Robert KINGSLAND. D.COLE has photos of some of the above. Nothing (other than the email from Robert HUNT) has yet been found to prove that this Flora Jessie KINGSLAND is a sister of Charles Robert KINGSLAND.

The Descendancy from Charles Robert Kingsland is as follows:




		1 Charles Robert KINGSLAND ((1862-1932)
		  +Annie G. Small (1862-)
		  2 Florence C. KINGSLAND (1880-)
		    +Charles (Charley) Percy COLE ()
		  2 Ethel KINGSLAND (1884-)*
		    +Earnest BROWNING 
		  2 James KINGSLAND (1887-
		  2 WIlliam (Bill) KINGSLAND (1892-)
		  2 Edward (Ted) KINGSLAND (1894-)
		  2 Gladys (Doll) KINGSLAND (1896-)*
		    +Frederick YEO*
		    3 Gladys Annie nee YEO Sydenham
		      +Gilbert (Gil) Sydenham
		      4 Vivienne Sydenham
		      4 Shirley Elizabeth Sydenham
		    3 Elizabeth Florence YEO*
		

*Note that Ethyl nee KINGSLAND BROWNING, Gladys (Doll) nee KINGSLAND YEO, Elizabeth Florence YEO and Frederick YEO appear in the Sydenham family photo in Source 14.
CRUESS
Flora Jessie KINGSLAND (b.1870) married Sydney Howard CRUESS (Source 11 is a photo of them.) They had at least 1 child: Frank CRUESS. Olive may be Frank's wife or his sister. (Source 12 is a photo showing (L-R) Back Row: Frank, Olive; Front Row: Flora Jessie (holding unknown baby), Sydney Howard CRUESS.) Assuming Frank had no brothers, his daughter Margaret CRUESS (who might be the baby held by Flora Jessie) married Robert HUNT.

SYDENHAM
The SYDENHAM/YEO family photo in Source 14 contain mostly SYDENHAM family members by birth or marriage and some friends. (The photo of Source 14 appears to be taken on the occasion of the marriage of Gilbert SYDENHAM and Gladys Annie YEO. The SYDENHAM Descendancy below lists some persons that appear in the photo.
Sydenham Descendancy from Robert Henry SYDENHAM is:

		1 Robert Henry SYDENHAM*
		  +Kate Elizabeth nee HUDSON-BILLINGS SYDENHAM*
		  2 Gilbert (Gil) SYDENHAM*
		    +Gladys Annie nee YEO SYDENHAM*
		    3 Vivienne SYDENHAM
		    3 Shirley Elizabeeth SYDENHAM
		    
		
Also in the photo of Source 14 are the following KINGSLAND (and YEO) family members that appear in the KINGSLAND descendancy listed above:

		 Ethyl nee KINGSLAND BROWNING*
		 Frederick (Fred) YEO*
		 Elizabeth Florence YEO*
		 Gladys (Doll) Annie nee KINGSLAND Yeo*
		

BRIMLEY
The following article written after 1851 appeared in Source 15. It mentions William BRIMLEY who might be related to the BRIMLEY people who worked for James COLE at WaterEnd Farm around 1900:

Congregationalists in Willington
There are two references to a meeting for Congregationalists in Willington in records held by Bedfordshire & Luton Archives & Records Service. One is in 1829 when Cotton End Congregationalist minister John Holloway registered the house of John Day [ABN1/2, ABN2/243, ABN3/3 and ABN3/92].

The secular authorities wished to know how many people in the country attended worship and the rough proportions for each denomination. Thus a census of worshippers was held on Sunday 30th March 1851, known as the Ecclesiastical Census. It was not a particularly popular exercise and the day itself, cold, wet and unpleasant, did not exactly encourage people to go outdoors. Nevertheless, the independent meeting in Willington had sixty people attending evening service.

The lay preacher, William Brimley, noted that the meeting house had seats for just this number of people, sixty and that this was the number in the average congregation. He also wrote: "No regular Preachers but supplied generally by laymen or Preachers". The meeting was, for lack of evidence to the contrary, presumably the house of John Day registered in 1829.


Other Genealogical Information
The following people are all included in my database named "davidcole3" at WorldConnect:

"The Water End Farm" in Wheathampstead, Hertford where James William COLE (and his wife, Sarah Ann BOOTH) lived c1900.
"The Tichborn Dole" instigated by Mabelle LAMERSTON c1350
"The James BANKS stained glass window" c1858 in Selby Abbey in Selby, Yorkshire.
"Emma née COLES" of Cotton End, Bedfordshire, Eng. who married Daniel COLE of Haynes, Bedfordshire, Eng. in 1848 in Bedfordshire, Eng.,
"Philip GOATCHER" (1889-1946), the evangelist and his will in rhyme,
"Jessica GOATCHER" (1892-1998) autobiography published in 1992,
"Benjamin FRANKLIN" the famous US statesman,
"Sir Wilfrid LAURIER, the Canadian prime minister,
"Maurice;The Rocket RICHARD", the hockey star,
"John COLE" my oldest known COLE ancestor,
"Thomas COLE" (1494-1571), m Elizabeth Hargrave. He is a descendant of Sir William Cole of Enniskillen (Knight).


Non-Free Genealogy Web Sites
I avoid the following Genealogy Web Sites. If you really wish to pay for genealogy information, I recommend Ancestry.com. Geni.com does provide considerable information, but you need to pay for full search access. I feel that the others are quite useless because most of them contain the same information:

$ Ancestry.com
$ GenesReunited.com
$ MesAieux.com
$ MyHeritage.com
$ YourFolks.com
$ Geni.com (Pro)
$
Description of the Coat of Arms for Cole by Segar
This description is quoted from the footnote on p3 of Source 5 below

* Arms of Cole : Arg., a bull passant Sa., armed Or, with a bordure of the second bezantee. Segar remarks: "Richard, Earle of Cornwall, King of the Romanes, created Earle of the Isle of Wight, bare a bordure of Cornwall about his coate . . And it's conceived he gave the same bordure to this or one of the Auncestors of this family of Cole, as an augmentation for services in the Warres."
Crest: A demi-dragon Vert, holding in the dexter paw an arrow Or, headed and feathered Arg.

Images/Photos
I have gathered together many photographs both past and present. Those available on the internet can be seen in the following major places:
Every photo in this set of over 600 photos is captioned. To search for any photo, simply type in a word and click on "Search". The system will display every photo that has the word in its caption. For a list of many words that can be searched go Here.

(To Go There .....Click it)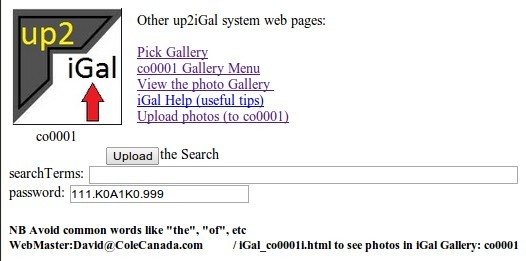 www.iGalri.com


This searchable photo gallery contains captioned photos. Simply enter a search phrase to see all the photos with that phrase in their caption. The phrase to be searched must be spelled perfectly. Best results are obtained when a single word is searched. A list of suggested words to search for is available topics/words. Some captions are lengthy. The author has written many articles that containing multiple photos. These articles can be found at this site: ePC Articles by Cole. This non-searchable photo gallery contains my previous collection of photo galleries. The fourth Photo Gallery contains many portraits of individuals. Some of these galleries are duplicates where I experimented with different methods of presenting photos. Some family trees are listed at the bottom of the Tree Leaves by Cole site. My more recent sites are listed at the bottom of my site named ZodiacEtc. (To enlarge .....Click it)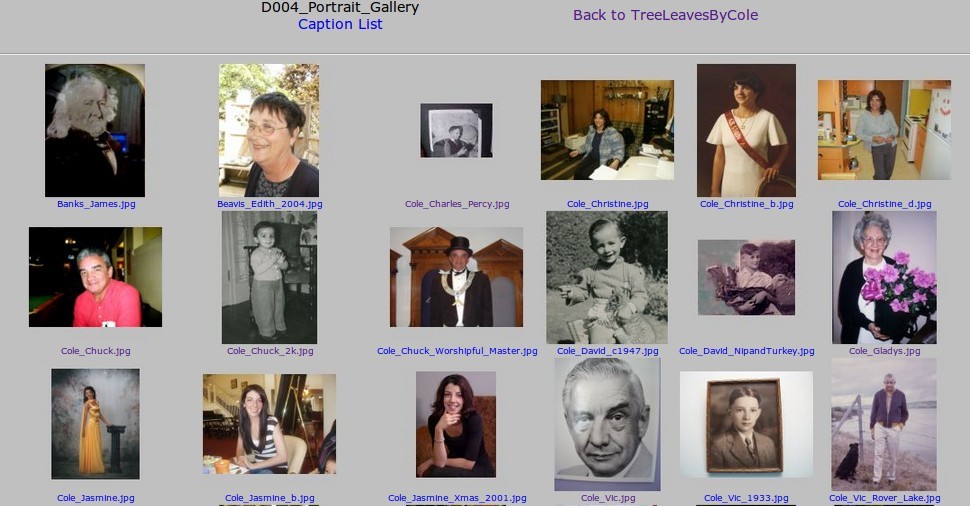 Some of my portraits

This gallery contains portraits (photos of a single person) of many of my relatives. The caption under each portrait identifies the person. My Ancestors (To enlarge .....Click it)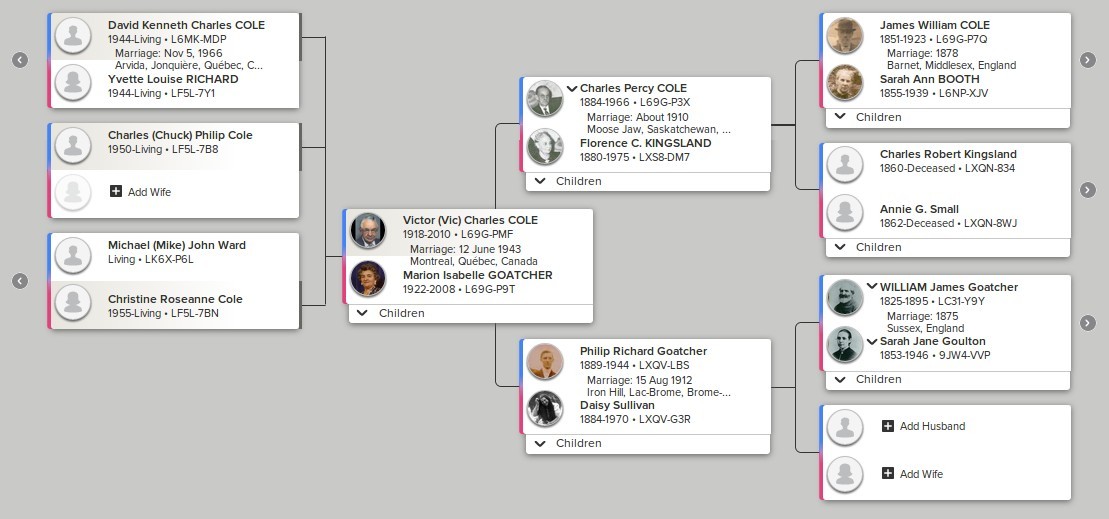 Ancestors of David Cole


This site contains very few photos but this it the only site where I have attached photos to individuals in a family tree. This site is free but one must become a registered member to use it. The site is noteworthy because it contains information gathered by people around the world. In my opinion it is the best family tree collaberation on the web. It contains family trees that have been entered by amateur genealogists and references material gathered by the Mormons. It is not necessary to be a Mormom to use this site. It can be automatically searched by the Legacy genealogy software. A free version of the Legacy software is available that can be used to perform such searches. Legacy software runs under Windows but not under Linux. Most Genealogy software available today (including Legacy) can read and write family trees in the GEDCOM format which most people use. But the Family Search site does not accept data in this format because contributors must carefully add information to the global family tree being maintained by Family Search. This site is my small collection of tombstone information. Photos (mostly of my dead ancestors) and their tombstones can be found here. A click on the person's name will take you to a photo of the person and a photo of his/her tombstone. A click on the Birth-Death year pair will take you to the person's information in my family tree at WorldConnect. A click on the tombstone icon beside each person's name will take you to the person's information at the FindAGrave site where an obituary can be seen. Links to other persons who are cataloged at FindAGrave are also included. If you have tombstone information about any of my ancestors, please send it to me, the WebMaster, listed below. This site contains tombstone and related information about many persons in many graves around the world (including many of my ancestors. But it is difficult to look up graveyards in some countries. Charlie has provided the following tip which is very useful for graveyards in England.

Tip (Copied from England Discussion Forum):
To do a search for a cemetery or churchyard in a particular county go to cemetery search and begin with a full search for all in England. Find-A-Grave will say that there are too many records and that you should go back and refine the search so that it returns fewer results. Ignore this and in the address bar at the top of the screen, where the url reads: http://www.findagrave.com/cgi-bin/fg.cgi?page=csr&CScn=&CScntry=5&CSst=0 replace the 0 at the end with one of the following codes. There may still be several pages of cemeteries in the list for the county, but it is easier to look through.

4205 Bedfordshire
4206 Berkshire
4207 Buckinghamshire
5247 Bristol
4208 Cambridgeshire
4209 Cheshire
4211 Cornwall
4216 County Durham
4212 Cumbria
4595 Derbyshire
4214 Devon
4215 Dorset
4811 East Riding of Yorkshire
4217 East Sussex
4218 Essex
4219 Gloucestershire
4220 Greater London
5248 Greater Manchester
4222 Hampshire
4599 Herefordshire
4224 Hertfordshire
4812 Huntingdonshire
4226 Isle of Wight
4227 Kent
4228 Lancashire
4229 Leicestershire
4720 Lincolnshire
4231 Merseyside
4232 Norfolk
4233 North Yorkshire
4234 Northamptonshire
4235 Northumberland
4236 Nottinghamshire
4608 Oxfordshire
4617 Rutland
4238 Shropshire
4239 Somerset
4240 South Yorkshire
4610 Staffordshire
4242 Suffolk
4243 Surrey
4244 Tyne and Wear
4715 Warwickshire
5249 West Midlands
4247 West Sussex
4248 West Yorkshire
4249 Wiltshire
4601 Worcestershire

This site also contains a single world-wide tree maintained by a large number of genealogists. Many photographs of individuals are also included. To view this tree, it is not necessary to have a user-id or password, unless you wish to add or modify infomation in the tree. This site has a large number of unique ways of viewing information in this large tree. My grandfather, Charles Percy Cole (1884-1966), is identified by the person-id of Cole-5969. He can be found at webpage:

Charles Percy (Cole-5969)
Near the top right-hand corner, if you hover your mouse cursor over his person-id Cole-5969, a long list of menu items will appear. Near the top, the link: Compact Tree should be listed. Clicking on it will cause a very verbose, informative tree will appear showing up to eight generations of his pedigree (up to 254 ancestors). Near the top, the following link will appear:
Charley's Tree & Tools
Clicking on this link will bring up the following (even more) impressive menu list of links to new tree-views tailored for Charley. The links appear at the bottom of the page, below the pedigree tree:

Ancestor List for Charley Cole
Compact Family Tree
Descendant List
DNA Ancestors and DNA Descendants
DNA Ancestor Confirmation Aid
Dynamic Tree
Family Group Sheet
Global Family Tree Connection
Images of Charley
Index of Coles
Location Maps
Printer-Friendly Tree
Profile of Charley
Relationship to Me
Shareable Family Tree
Surnames
It is interesting to click on them, one after another, to see all the information that is shown. You may be surprised to see the Global Family Tree Connection.

Family Search Ancestor Matches (to wikitree.com)
The wikitree.com web-site and the FamilySearch.org web-site have cooperated to automatically compare persons in the two sites. Of course, it is necessary to have a valid user-id and password at both sites. To avail yourself of this cooperative effort, log into wikitree.com and go to the webpage of one of your ancestors. Then hover your mouse cursor over the Find link near the top right corner. A menu list of links will appear including one named FamilySearch Matches. Click on it. Then enter your user-id and password for each site. Your WikiTree Watchlist will appear listing all persons found in the FamilySearch site. Various alternate matches will appear. For each person in your Watchlist, click on the blue Create Match button to link each common pair of ancestors (at the two sites). We are told that the FamilySearch person-id will appear under the section Research on the ancestor's information page at WikiTree.com, but I have not yet seen this reference (as of Oct 9, 2015). Perhaps it will appear in the near future.


H Cole's First Photo Gallery
The various photo galleries produced by David Cole have evolved considerably over the years. When producing his first personal web page, David produced Gallery 001 which can be seen via the following web link:

Gallery 001 c 2010 by David Cole


It includes a pot-pourri of captioned family photos. This gallery is included in David Cole's personal web page (Source 27).
Additional Information
More information is included in my other home pages and in the data uploaded to World Connect in databases "davidcole3" and "colesofdevon". I have begun to load some photographs into my picture galleries at "treeleavesbycole", "www.colecanada.com", "www.iGalri.com" and "www.ZodiacEtc.com". Various autobiographies by recent relatives are included in my archives.

Any information or suggested corrections would be appreciated. I am also willing to share the GEDCOM information that I have.

Keywords: Cole, Richard, davecole, coledavid, Carlsbad Springs, Ottawa, Moose Jaw, Parc Anderson Park, Burgundy Condominium, Bradenton, Florida, Yvette Cole, Davidkcole, David KC Cole, davidcole3, Haynes, Bedfordshire, Goulton, Arseneault.

Additional/External References
Source 1:www The Story of Wesley Mimico 1864-1964 by The Centennial Committee, Dated: 1964
Source 2:www Ancestor DANIEL COLE (1814-1898) b. Hawnes by David KC Cole, Dated: 2015
Source 3:www John (Unrelated) COLE (b1789) b. Haynes by David KC Cole, Dated: 2015
Source 4:www Thomas COLE (1474-1591) b. London by David KC Cole, Dated: 2015
Source 5:www The Genealogy of the Family of Cole... by James Edwin-Cole Date: 1867

Source 6:www Thomas COLE (1465-1591) b. London by David KC Cole, Dated: 2015
Source 7:www County Genealogies-Pedigrees of the Families in the County of Sussex (Cole p307 or 330) by William Berry (updated from Segar), Dated:1830
Source 8:GBook The Hull Quarterly and East Riding Portfolio Source by A Brown & Sons, Date: 1884

Source 9:www Geni.com [bad ref] Curated by: Pam Wilson, Date: 2015

Source 10:www Royal Berkshire History-Faringdon Castle by David Nash Ford, Date: 2015

Source 13. Gladys YEO nee KINGSLAND (Aunt Doll to Victor Charles COLE) Photo by Victor COLE in Barnett, England in the 1960s.

Source 14. SYDENHAM/YEO Family Photo with names indicated on it from Victor COLE

Source 16:GBook Kelley Directory of Bedfordshire, Hunts and Northhampshire with maps by Kelly, 1885
Source 17:GBook Royal County Directory of Bedfordshire, Buckinghamshire, Berkshire... by J. G. Harrod & Co., 1876
Source 18:GBook The Early Genealogies of the Cole Families in America: by Frank Theodore Cole, 1887
Source 19:www Find A Grave (includes many of my ancestors)
Source 21:www Genealogy Guide (For UK Genealogy)
Source 22:www SmithEg.ged Small Sample GEDCOM by D.Cole

Source 23:www Bedfordshire Surnames at Rootsweb

Source 24:www See Notes re John COLE (1733-1764) at Rootsweb

Source 25:www WaterEnd House (built in 1610) by David KC COLE

Source 26:www Philip FitzRobert (1122-1167) FamilySearch (free userid required)

Source 27:www ColeDavid.com The WebMaster's Personal Web Page

← Back to Top of This WebPage



Created: 2014
Updated: 2016 A Jan 01
/WebMaster: Ye Old King Cole


/33.html