Carlsbad Springs 1879-2015 (12.html)
and
Parc Anderson Park : (50+)
(A 50 plus Residential Community)
July 18, 2015 Excerpts from 2013 Ottawa Master Transportation Plan
July 12, 2015 Carlsbad Springs Community Association Web Site
July 9, 2015 Crashes at Level Crossings in Eastern Canada
July 7, 2015 Ottawa Community Design Plans & Carlsbad Springs Vision Statement & History of C.S
June 17, 2015 (Piperville Interchange and Proposed Carlsbad Springs Bridge)
June 11, 2015 (417 Bridges Rehabilitation added)
Introduction


This article was created to house various maps showing the evolution of the geographic area surrounding Carlsbad Springs. The oldest maps appear first. The maps and notes at the end of this article describe how Piperville Road (one of the main East-West arterials to Carlsbad Springs) might evolve. Until recently, Piperville Road was known as Eighth Line (running roughly East-West) terminating near the center of Carlsbad Springs. This article finishes by listing some of the issues concerning road planning in this area. A link to the web page for the Carlsbad Springs Community Association is in Source 17.


---

Map Source: The Chronicle of Carlsbad Springs, by James Collins, page 18.
Names: Forsythe, Tierney, Eastman, Hall, McDonald, Mer Bleu, Russell Road, Bear Brook.
(To enlarge .....Click it)


Carlsbad Springs 1860
---
Text Source below: Where the Heck is Balaheck? - Unusual Place names from eastern Ontario, byMichael Dawber, page 34.


CATHARTIC / CARLSBAD SPRINGS

This oddly named community was the location of Eastman's Springs P.O., better known today as Carlsbad Springs. The community briefly boomed during the health spa craze of the late Victorian age (see Carratraca Springs under Prescott County). While Eastman's Springs and (from 1906) Carlsbad Springs were the approved post office names for the village, the local preference was Cathartic. Obviously, the name was given because of the beneficial (i.e., cathartic) effects ascribed to the hot springs. Cathartic frequentlly appeared on the maps in the late 1800s, but Carlsbad Springs is now the only recognized name for the community. Carlsbad Springs, incidentally, was the name of a well-known spa in Bohemia.
---
Map of the Village of Cathartic (Carlsbad Springs), Ontario in 1879 Source: McGill University Digital Maps
(To enlarge .....Click it)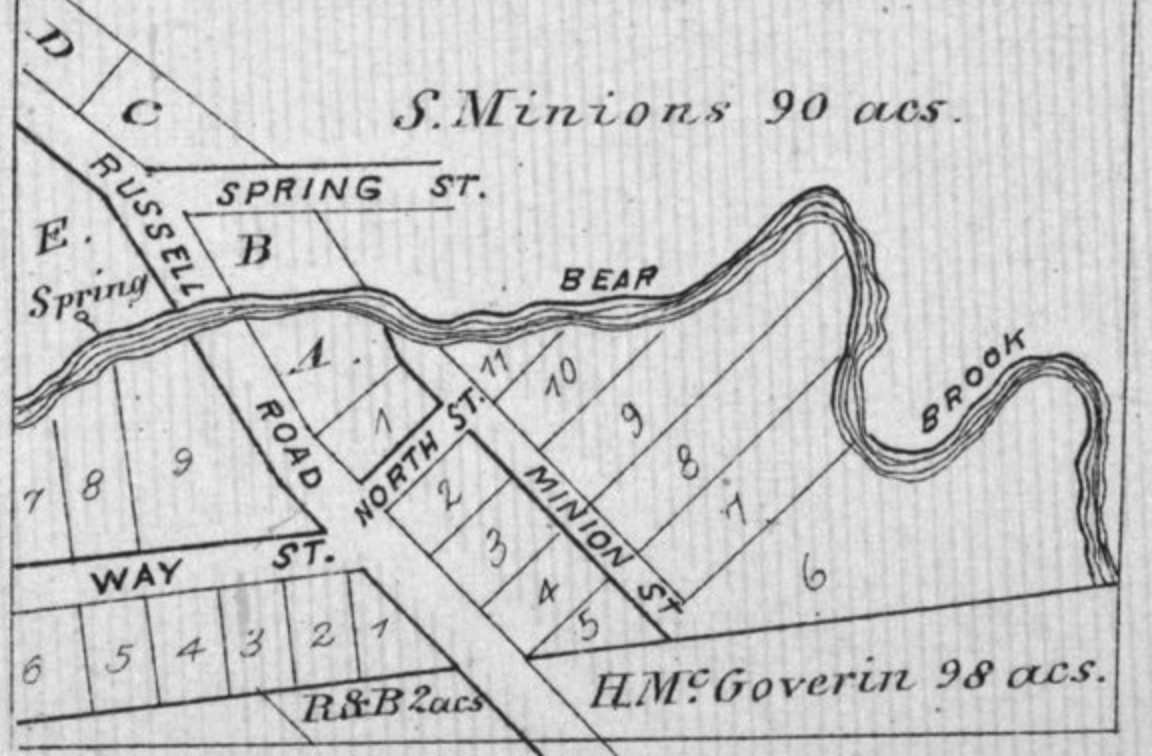 Carlsbad Springs 1879
The springs brought thousands of visitors to a grand resort at Carlsbad Springs. The springs were part of Bear Brook / Bearbrook which flows through the village. One of the springs is shown at the left of the map.

Reference: The Book is called THE CHRONICLES OF CARLSBAD SPRINGS and was originally written from 1915-1925 by James Collins (1879-1936). It was compiled from his original hand written manuscripts and self published by Kevin Collins (his nephew) who is a loyal contributor to this website.
Kevin's e-mail address is kcollins@web.net and his Collins family web site is at http://www.web.net/~kcollins/Collins/Home.htm
---
October 11, 2010
CARLSBAD SPRINGS

Bear Brook is a tributary of the South Nation River, which drains into the Ottawa River near Plantagenet. In the early days of settlement, logs were floated down to mills during the spring break-up. Settlers also used the river for transportation to their new homesteads. However, due to its small size and low water during summer, its use for transporting settlers and their goods did not continue [very] long after the opening of the Russell Road. The completion of the Canada Atlantic railway in 1882 provided a better solution for shipping of timber and lumber, and for general transportation.

Today, Bear Brook flows mainly through farmland. Its waters drain away faster, now that a mature forest no longer exists. This quiet walk through the woods is a chance to savour the atmosphere that likely prevailed in an earlier period. Beaver and their works can be observed, as well as many small animals. Viewing of waterfowl and other birds can also be enjoyed along this pathway.
Source: http://www.bytown.net/carlsbad.htm
Search Phrase: "Carlsbad Springs"
Search By: David Cole (davidcole3@aol.com)
Search Date: 2009 K Nov 04
/CarlsbadSprings.rtf

---
Carlsbad Spring House and Historical Plaque


This little building is what the original Spring Houses looked like. This building and the historical plaque are located (c2015) on Russell Road, slightly east of the intersection of Russell Road and Spring Street.

Source 9 (History of Carsbad Springs) contains many historic pictures of life around Carlsbad Springs. Dominion House (c1870) is a hotel that was situated beside the springs. It was built on the North-West side of the Russel Road bridge that crosses Bearbrook Creek. The current Spring Street probably runs North beginning at the left of the picture of the Dominion House hotel (that appears below):

(To enlarge .....Click it)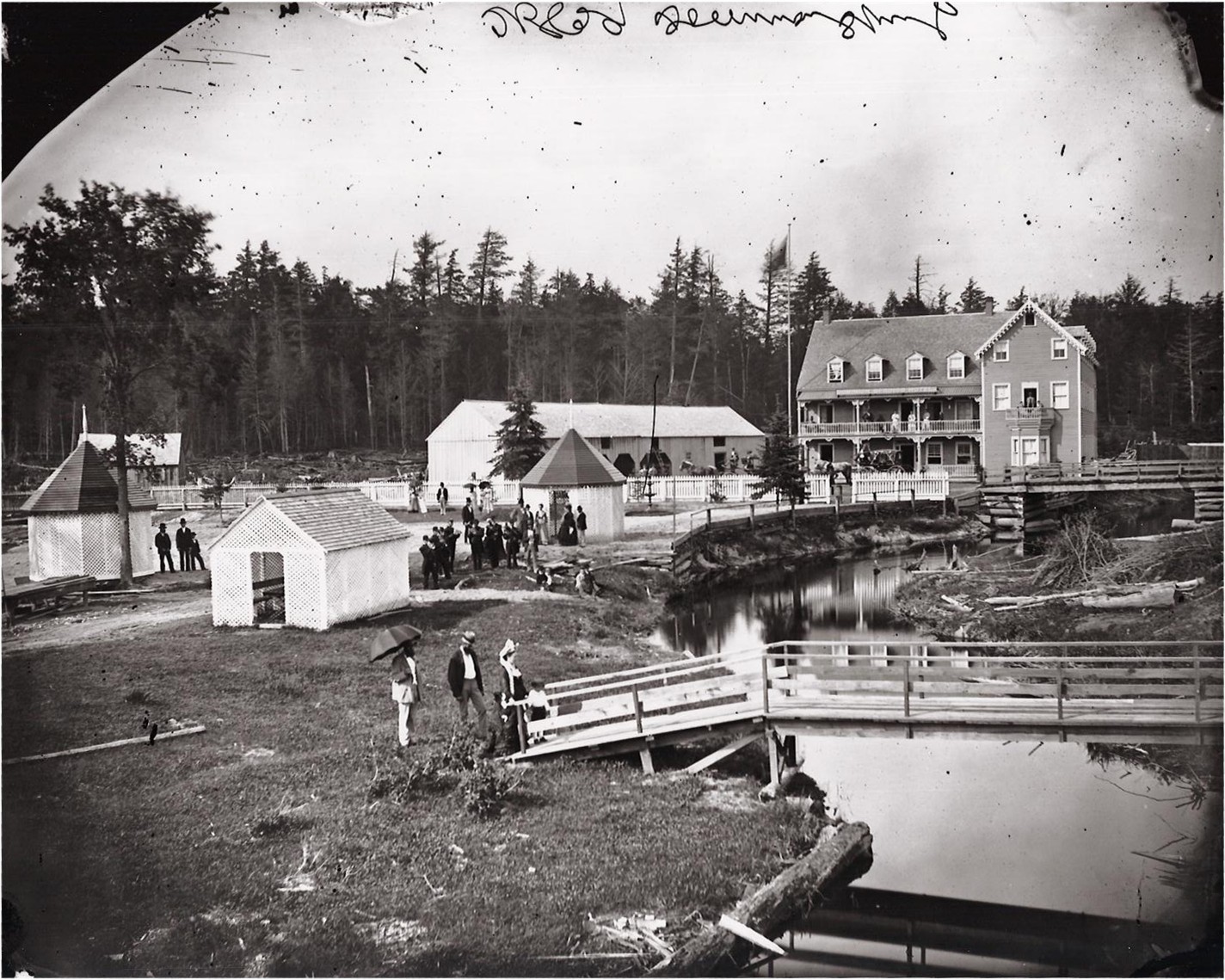 Dominion House hotel
---
Parc Anderson Park
(To enlarge .....Click it)



Parc Anderson Park
Parc Anderson Park is a 50+ retirement community whose post office is in Carlsbad Springs. (Although technically, Parc Anderson Park may actually be in Gloucester.) Parc Anderson Park's address is 4670 Piperville Rd, near where it crosses Anderson Road. Norm Anderson, a resident of Parc Anderson Park, is a descendant of the Anderson whose farm gave its name to many landmarks in the area. See Bear Brook (Source 5 below) for a list of many of the original settlers of the area. See Bearbrook Church (Source 6 below) for recent information.

---
Traffic from the Strandherd-Armstrong (now the Vimy Memorial) Bridge to Piperville Rd?
(To enlarge .....Click it)


Bridge (over the Rideau) to Piperville
Pundits say that the recent (July 2014) opening of the Vimy Memorial (formerly the Strandherd-Armstrong) Bridge shows little or no traffic. But for how long will this be true? The picture above shows how future traffic might logically flow along Strandherd Drive all the way from the 416 through Barrhaven to cross the Rideau River via the Vimy Memorial (formerly known as Strandherd-Armstrong) bridge. Then along Earl Armstrong Drive and straight across (just) North of the Rideau Carleton RaceTrack Casino along a future unbuilt road. Then it might continue in a straight line to meet Blais, Louiseize and Piperville Rd. Traffic could perhaps continue East to a future Earl Armstrong interchange across the 417 to Carlsbad Springs. The next logical thing would be for traffic to exit Carlsbad Springs along Russell Rd to meet up with (a future southern extension of) Trim Road. Could this be the future Ring Road South to Orleans? Who knows? Ask the Ottawa City Planners. One positive outcome of all this might be less traffic on Anderson Rd. Its too bad that the city spent all that money changing the name of 8th Line to PiperVille Road. They should have just renamed it all to Earl Armstrong Road last winter. So don't change any of your stationery that mentions 8th Line or Piperville Road, just yet.

Have you heard that CostCo is planning to build a big store on Bank St between Blais and Findley Creek? (or will the location be the corner of Earl Armstrong and Limebank?) . . . . EITHER LOCATION IS OF INTEREST!

For a better look see Google Maps of this area.

As of Nov 28,2013, here is what Ottawa City Council was saying about these plans:
"Rideau-Goulbourn Coun. Scott Moffatt moved the motion at the city's transportation committee on Nov. 15 while discussing the five-year Transportation Master Plan, (TMP). The motion would delay the Earl Armstrong extension between Bowesville and Bank Street past 2031 and instead use the project's pre-approved $20 million to fast-track a widening of Prince of Wales between Merivale and Hunt Club Roads."

Another excerpt from that meeting says:
"Earl Armstrong, on the other hand, will be a useless limb for the surrounding road network unless it can be connected to Albion Road and Bank Street to allow a proper east-west arterial from the bridge."

Concerning the casino:
"Furthermore, the group said delaying an Albion Road connection could hurt any future development at the Rideau Carleton Raceway, which the city has designated as the only place for an Ottawa casino. Moffatt said the city wants to see a casino long before the Earl Armstrong connection would be built, regardless of his motion."

For more detailed treatment, see: "Routes to Strandherd-Armstrong (Vimy Memorial) bridge in flux"

This clearly indicates that the long-term plan for Earl Armstrong road will be an improved truck-route extending [at least] to Albion Road AND Bank street.

For a long time, the Strandherd-Armstrong Bridge has been a topic in the Ottawa Forum at the Skyscraper web page. A link to this forum can be found at Source 14. Other comments about tranportation in the Ottawa-Gatineau area can be found in the link to the Skyscraper forum at Source 15 entitled Roads/Bridges projects/Issues.

Another project of interest is Blais Road. The document referenced below briefly says:
"Road Resurfacing Renewal of Blais RD (2015-2018) from Bank St to 391 m East of Bank St." This is only .4 km east of Bank st., but Blais Road is 1.8 km long (mostly gravel surface).
For more info see Source 1 below.

Older City of Ottawa plans (Source 2) also mention the extension of Earl Armstrong Road. In 2005, it was written:


The main east-west and north-south collector roads are strategically located to provide access to the adjacent arterial roads and to organize The north-south spine road is aligned to provide special views of key uses through the community. the neighbourhoods. The central east-west road connects with the existing Findlay Creek Road and follows the north edge of the Leitrim Wetlands. It is located to accommodate development only on the north side, allowing open views to the Leitrim Wetlands. This will help to ensure the Wetlands are not cutoff from the community, and indeed lends a special character to new neighbourhoods. The northerly east-west road provides a through route north of the cemetery. The southerly east-west road connects Blais Road to future Earl Armstrong Road. It is located as a spine to the neighbourhoods.
(To enlarge .....Click it)

Findley Creek Area (Leitrim)


(To enlarge .....Click it)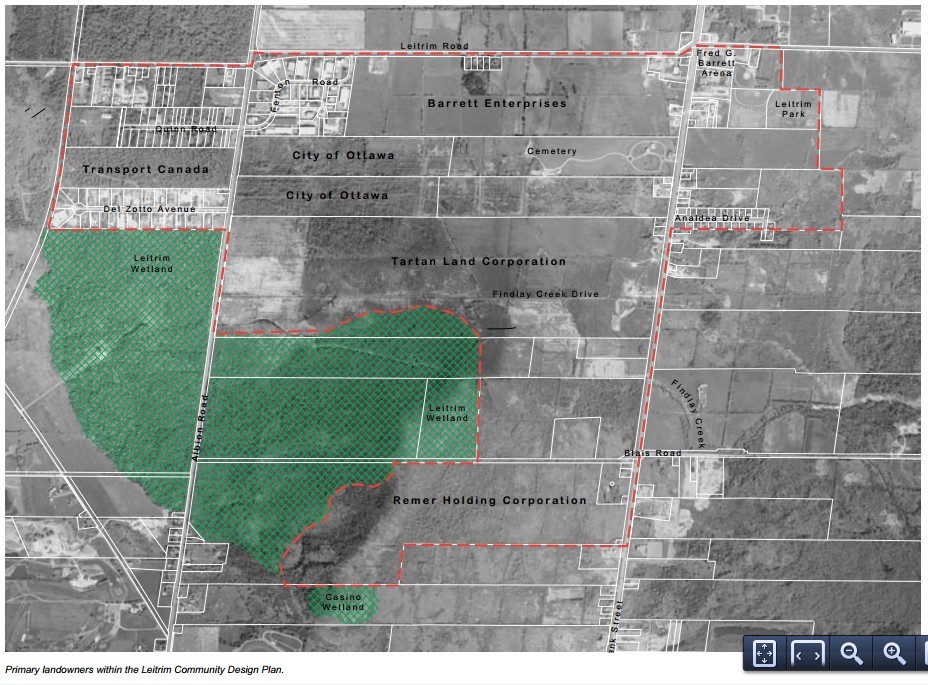 Leitrim LandOwners (2005)

The above image of the Leitrim landowners shows the Leitrim Wetlands area. Source 2 (dated 2005) contains various plans for the Findley Creek area of Leitrim. Preserving the Leitrim Wetlands area seems to be a major goal. Mention is made (cited above) of the westward extension of Blais (through the wetlands) to become a major arterial road by joining it to Earl Armstrong Road and extending it west across the new (in 2014) Vimy Memorial (formerly the Strandherd-Armstrong) bridge across the Rideau River. Future plans will conceivably extend Earl Armstrong Road to Carlsbad Springs. It is unknown when or whether an interchange with the 417 will be built at Piperville.


---
---
(To enlarge .....Click it)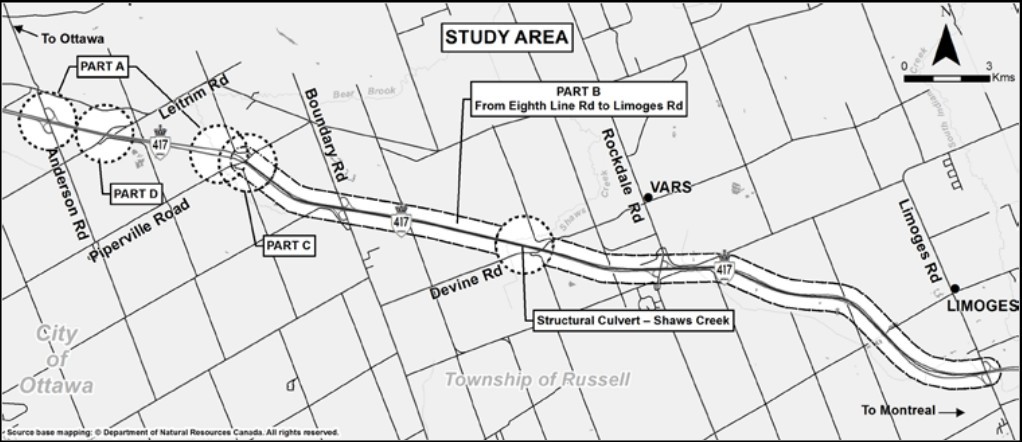 Rehabilitation of Hwy 417 Bridges (I/C 96 to I/C 104) Study

Highway 417 Rehabilitation & Improvements (2015)

Denis Lebreche, Chair of the Carlsbad Springs Community Association, received the following information:

Notice of Public Information Centre (PIC)
Highway 417 Rehabilitation & Improvements
Detail Design and Class Environmental Assessment Study, Ministry of Transportation
Part A: Highway 417 Anderson Road & Bear Brook Bridges (G.W.P. 455-98-00)
Part B: Highway 417 from Piperville Road (8 th Line) to Limoges Road (G.W.P. 4064-06-00)
Part C: Piperville Road Bridge (8 th Line) (G.W.P. 4060-09-00)
Part D: Leitrim Road Bridge (7 th Line) (G.W.P. 4134-11-00)
URS Canada Inc. has been retained by the Ontario Ministry of Transportation (MTO) to undertake a Detail Design and Class Environmental Assessment (EA) Study to address the rehabilitation needs and improvements to sections of Highway 417 from Anderson Road easterly to Limoges Road in the City of Ottawa and Township of Russell (refer to the enclosed "Notice of Public Information Centre"). This notice can be seen in "Rehabilitation of Hwy 417 Bridges (I/C 96 to I/C 104)" (Source 3 below).

This rehabilitation of the 3 Highway 417 bridges (overpasses) do not convert the Piperville Road overpass into an interchange. There is one clear indication of the city's future plans to create a Piperville Interchange. This indication can be seen by using Google Maps (Source 4 below) to view the "intersection" of Piperville Road and Highway 417. It is visible that the actual bridge (overpass) was built south of the existing Piperville Road; instead of being lined up with the road. This would facilitate the construction of a second pair of lanes if Piperville Road were made into a major four lane arterial at some future date.

When using Google Maps to view highway 417 near interchange 98, you might notice a landmark named "Ste-Marguerite Marie" positioned in one lane of the highway. This is an error, or course, and has been reported to Google Maps. The correct location of Ste-Marguerite Marie church is located at 2571 Hwy 174, Cumberland, ON (not at 2571 TransCanada Hwy, Gloucester, ON).


---
Piperville Road 417 overpass bridge: on-going contruction until October, 2015
A reminder that the Piperville Road overpass bridge at Hwy 417 is under construction, schedule to re-opened only in October. Both sides of the bridge have been removed and large holes on the east and west side of the overpass have been excavated to rebuild the bridge to the latest standards.
(To enlarge .....Click it)

Piperville Overpass (2015)


---
Carlsbad Springs Regional Issues (as of 2015)

Current Road Planning Issues
Unsafe Level Crossings (roads crossing railroad tracks)
Ramsayville Rd, ANDERSON RD, Farmers Way, Russell Rd, Hall Rd,
Piperville Rd, Boundary Rd, Carlsbad Lane, Sabourin Rd,
(Roads N & S of the tracks and one RR Bridge could eliminate them all.
This could also reduce N-S traffic along Anderson Rd
Preventive measures might avoid a Barrhaven-like mortality here)
Unsafe joining of Piperville Rd to Boundary Rd (near Russell Rd) at the level crossing
Unsafe joining of Leitrim Rd to Russell Rd
Preservation of Mer Bleu
Creation of a Hwy 417 Interchange at Piperville Rd
Preservation of the remaining original springs, if any (near Carlsbad Springs)
Rerouting of E-W Traffic currently along Russell Rd. (to pass N of Carlsbad Springs)
Reduction of Traffic along Anderson Road north of the railroad
Extension of Walkley Road (East of Hwy 417)
Extension of Tenth Line (South of Navan Road) to Russell Rd
The need for a major East-West arterial East of the Vimy Memorial Bridge
(formerly known as the Strandherd-Armstrong Bridge)
Extension of Blais Rd west to join Earl Armstrong Rd.
Some Non-Road-Related Issues:
A local water tower and/or higher volume pipes are needed
Natural Gas lines should be extended
Fiber, Bell cell tower and cable coverage is insufficient
Location of the future dump must be decided
Plans to address the issues listed above should be prepared before too much local housing is constructed.
---
Piperville Interchange and Proposed Carlsbad Springs Bridge


This Carlsbad Springs Bridge plan (above) addresses many of the major "road-related" issues mentioned previously. This plan must wait until the Highway 417 Interchange #98 is built at the Piperville interchange (overpass). This (yet unplanned) bridge (sometimes called Cathartic Bridge) will provide a major East-West arterial linking Earl Armstrong Rd to Tenth Line or Milton Rd. (It could continue on to Frank Kenny Road and Rockdale Road which intersects Highway 417 at Interchange 88 at Russell.) This new East-West arterial runs across Ottawa from Highway 416 via Strandherd Dr across the new Vimy Memorial Bridge. Then it runs along Earl Armstrong Rd (incomplete), Blais Rd (incomplete), Louiseize Rd and Piperville Rd to Highway 417. It then runs North along a new Cathartic Rd and a new Carlsbad Springs Bridge finally turning East through Carlsbad Springs past Milton Rd all the way to Frank Kenny Road and Rockdale Road in Vars. In and near Vars, there are 5 dangerous level rail crossings. Vars could benefit from the Carlsbad Springs Bridge by reduced traffic in the same way that Anderson Road will but it is further away. Vars will eventually need a non-level rail crossing for either Frank Kenny Road or Rockdale Road as Ottawa expands into that area. East of Vars, there are very few level crossings until the town of Limoges which fortunately only has two, to date.

The new Carlsbad Springs bridge will improve safety by eliminating all 9 level railroad crossings in the drawing. Two unsafe intersections are eliminated and traffic (North of the railway) along Anderson Rd will be reduced considerably. Two new East-West road segments will be needed: North Railway and South Railway. Russell Road will again be chopped into disjoint pieces (as it is elsewhere). Note that East-West arterial traffic is rerouted North of the railroad tracks and North of the Carlsbad Springs central business district.


---
Accidents at Level Crossings in Eastern Canada

Since 1990, there have been over 20 accidents at level railroad crossings (sometimes called rural crossings, grade crossings or rail crossings) in Eastern Canada, many of them near Ottawa. Some of these crashes were fatal. In 1998, a truck driver died at the Boundary Road rail crossing near Carlsbad Springs when a Via Rail train hit his tractor-trailer. According to the Ottawa Citizen (Source 10) on Sept 17, 2013, these level crossing accidents were:

1993 St.Isidore Street, Casselman
1993 Sandy Point, 9 km west of Armprior
1993 Boundary Road, south of Osgoode
1994 Gatineau at Maloney Boulevard and L'Hopital Boulevard
1994 Fourth Line, south of Connaught gun range near Kanata
1994 Smith Falls
1998 Boundary Road, approaching Russell Road near Carlsbad Springs
1998 Holbrook Road in Montague Township
1998 5 km southwest of Carleton Place
1998 O'Neil and Dwyer Hill roads
1998 County Road 18 4 km west of Kemptville
1998 Milton, west of Toronto
2000 Highway 138 just north of Cornwall
2000 Brigham in Quebec's Eastern Townships
2000 Durham Street in Colborne, west of Belleville
2002 Rural crossing near Kingston
2005 Armstrong Road near Smith Falls
2008 near Franktown
2008 Shawville, Que, at Heath Road
2008 Braeside, just west of Armprior
2010 Kingston, north of Highway 401
2013 Barrhaven, a suburb of Ottawa

In 2013, there were 31 level crossing fatalaties in Canada... (including 6 fatalities in Barrhaven) according to Source 11 (below). This is the highest in any year since 2005. There were 2,162 crossing accidents on Canada's railways between 2003 and 2012, the Traffic Safety Board (TSB) says, which left 266 people dead and caused some 346 serious injuries. This was reported on Sept 18, 2013. See Crashes at Rail Crossings (TSB) in Source 12 for more details.

In April 27, 2015, Canadian Minister of Transport Lisa Raitt launched Rail Safety Week with new funding for railway crossing improvements. See Source 13 for more details. Transport Canada also provides funding through its Grade Crossing Closure Program (GCCP) to encourage the closure of certain grade crossings that are under federal jurisdiction. The program provides a $20,000 grant for a public grade crossing and a $5,000 grant for a private grade crossing in exchange for the beneficiary (generally a road authority or private property owner) relinquishing their rights to the crossing and closing it. Closing 9 public grade crossings will provide $180,000 towards a real solution such as the proposed Carlsbad Springs Bridge (which will probably cost millions). Much more financial support from all levels of governement will be needed.

On June 29, 2015, it was announced that the CEO of VIA Rail, Yves Desjardins-Siciliano, said Tuesday [perhaps on June 23,2015], the Crown corporation is discussing private funding with potential investors for a $3 billion dedicated passenger track over the summer and will bring proposals to its sole shareholder — the federal government — by the end of the year, or early 2016. More information can be seen on Page 54 of the Skyscraper Forum for Ottawa-Gatineau Transportation which can be found at Source 16 below [Search for the article posted on Jun 30, 2015, at 5:22 PM]. Careful perusal of this announcement indicates that the rail segment being announced is only that from Montreal to Toronto, which is the most important rail artery in Canada.
---
Master Transportation Plan for Ottawa (2013)
According to pages 70-72 of Source 18 (Ottawa Transportation Master Plan - 2013) the following work is planned for the area around Earl Armstrong Road, Piperville Road and Carlsbad Springs:


| | | |
| --- | --- | --- |
| 2014-2019 | | |
| Southeast | 417 Bridges | Improvements to the Highway 417 bridges at Anderson, Leitrim and Piperville Roads. (NB This work is not mentioned in the Ottawa Transportation Master Plan.) |
| ... | ... | No other major road work is planned for the Earl Armstrong Road and Piperville Road area between 2015 and 2019 |
| 2020-2025 | | |
| Southeast | Bank Street | Widen from two to four lanes between Earl Armstrong Road extension and South of Leitrim |
| East | Tenth Line Road | Widen from two to four lanes between Harvest Valley Ave and Wall Road |
| 2026-2031 | | |
| Rural | Bank Street (2) | Widen from two to four lanes between Earl Armstrong Road extension and Rideau Road |
| Southeast | Earl Armstrong Road | Widen from two to four lanes between Limebank and Bowesville Road |

Source 19 is the web page containing the City of Ottawa Transportation Master Plan. As seen in Table A3 on page 110 in Source 18 (Ottawa Transportation Master Plan - 2013), future work is described in more detail for the Earl Armstrong Road:


Earl Armstrong Road
(Affordable Network and Network Concept)

| | |
| --- | --- |
| Affordable:Widen from two to four landes between Limebank Road and Bowesville Road | Provides capacity for growth in Riverside South |
| Concept: New two-lane road between Albion Road and Bank Street | Provides capacity for growth in Riverside South and completes linkage to Bank Street |
| Concept:New two-lane road bewteen Bank Street and Hawthorne | Continuation of cross-town route between Highway 416 and 417 |

The third item, "New two land road between Bank Street and Hawthorne" is very interesting to see mentioned. This could indicate that Blais . . . through Piperville might NOT be used as the further "Continuation of cross-town route between Highway 416 and 417".
The Future Arterial Extending East from Earl Armstrong
Maybe the recent work on Leitrim (south of the CFS Leitrim) might be incorporated into the arterial connecting Highways 416 and 417. This would bring traffic closer to CFS Leitrim which is probably not desirable. The recently developed Anderson Links Golf course on the south east corner of the intersection of Anderson Road and Piperville is not visible on Google Maps but it is very big. It extends from Piperville Road to Leitrim Road. It is difficult to believe that this development would have been permitted if a new arterial were planned for that land.

There are seven large green areas nearby: Leitrim wetlands, Rideau-Carleton racetrack, Finley Creek, Meadows Golf and Country Club, Anderson Links, Grey Hawk Golf Club and Mer Bleu. These green areas, the original springs at Carlsbad Springs and CFS Leitrim should probably be avoided when the future Earl Armstrong / Piperville arterial is planned. A new North-South road cutting Mer Bleue in two will probably be avoided. It is also unwise to increase future traffic on Anderson Road because this will require the addition of 2 new lanes which will be detrimental to Mer Bleue. Tenth Line could be extended south to Russell, but more than likely Trim Road will become a very major North-South arterial closest to the east side of Mer Bleue.

A new Highway 417 interchange in this area is possible but will probably not be built. It would be unwise to use the Anderson Road interchange, as this would increase traffic on Anderson Road. This leaves Leitrim Road, Piperville Road or Thunder Road as choices where the Earl Armstrong / Piperville Interchange will cross Highway 417. The Thunder Road / Boundary Road interchange is probably too far south to become the extension of Earl Armstrong. This leaves only Leitrim and Piperville as possible candidates.

Either Tenth Line or Milton Road (or a combinatino of the two) will probably become the North-East part of the "Ring Road" around Mer Bleue. If so, the Eastern part of Russell Road will also become part of this "Ring Road". The South-East corner of this "Ring Road" will naturally become the most desirable intersection of the nearest arterials. Following this logic, the Earl-Armstrong / Piperville arterial must be designed to intersect the Tenth Line / Milton Road arterial. Current plans require that traffic proceeding South down Trim Road will join Frank Kenney before crossing Highway 417. It will be desirable for Frank Kenney to also intersect the Earl Armstrong / Piperville arterial north of Highway 417. A very good way for all of this to occur is for Piperville to become the interchange where the Earl Armstrong / Piperville arterial crosses Highway 417. The only remaining question is whether the level-crossings issue will be addressed. It can be addressed by building an elevated bridge over the railroad just west of Carlsbad Springs (as is proposed elsewhere in this article.)


---
Sources:
Source 1: Ward 22 Project List


Source 2: City Plans: Leitrim-2005


Source 3: Rehabilitation of Hwy 417 Bridges (I/C 96 to I/C 104)


Source 4: Google Maps of Piperville Rd.


Source 5: Bear Brook


Source 6: Bearbrook Church


Source 7: Ottawa Community Design Plans


Source 8: Carlsbad Springs - Vision Statement


Source 9: History of Carlsbad Springs


Source 10: Accidents at level crossings (in eastern Canada) Sept 17, 2013


Source 11: Deadly Rail Crossings by Alan Freeman


Source 12: Crashes at Rail Crossings (TSB)


Source 13: Minister Raitt: New Funding for Rail Crossing ...


Source 14: Skyscraperpage Forum: Strandherd Bridge (in Ottawa)


Source 15: Skyscraperpage Forum: Ottawa-Gatineau-Roads/Bridges projects/Issues


Source 16: Skyscraperpage Forum: Ottawa-Gatineau-Roads/Bridges projects/Issues Page 54 #1075


Source 17: Carlsbad Springs Community Association Web Page


Source 18: Ottawa Transportation Master Plan - 2013


Source 19: Ottawa Transportation Master Plan - 2013 on the web


http://ottawa.ca/en/city-hall/planning-and-development/official-and-master-plans/transportation-master-plan tmp_en.pdf

WebMaster: David Cole
Last Update: 2015 G July 18

/12.html