Seabrook
Contributed Oct. 2009
My branch of the Seabrooks lived in Wheathampstead for three generations and there are now no members of the family there. The Seabrooks appear to have originated in Redbourn, at least that is the earliest connected reference I can find, dating back to 1624, though it's a little tenuous. The clearest connection is John Seabrook, born Redbourn 1705. They were farmers and apparently quite prosperous. The family practice appears to be that the sons were put out to other farms as they grew up, leaving the youngest son to take over the family farm on the death of his father.
George Seabrook (1766-1827) farmed Dane Farm, Harpenden (though nearer Kimpton) and his grandson William Seabrook (born 1842, my great-grandfather) came to Wheathampstead first as landlord of the Railway Hotel and proprietor of a coal business based at Wheathampstead Station, with coal trucks emblazoned with the family name. He also took over Lamer Farm. He was the first of the Seabrooks to marry outside the traditional local farming background, his wife being Anna Maria Maddy, who was proprietress of a young ladies' academy in Sloane Street Chelsea.
The influence of Anna Maria meant that their first child, Robert William Hawes Seabrook (born 1870) was not put into farming, but trained as a schoolteacher. Lamer Farm eventually passed to his younger brother George and remained in that side of the family until fairly recent times.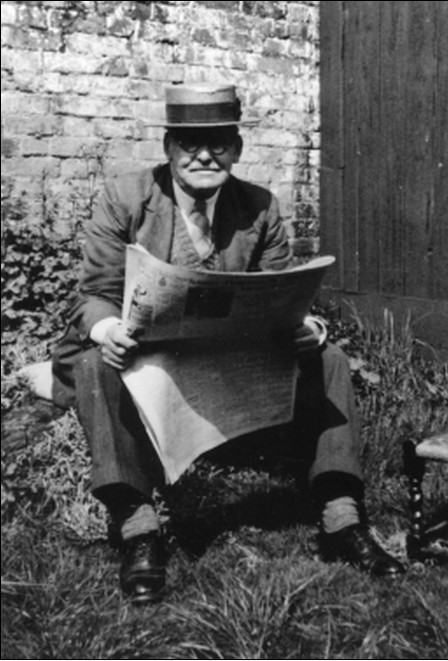 Robert became well-known in Wheathampstead. He was Clerk to the Parish Council and Assistant Overseer. He also trained musically and for many years was Organist at St Helen's Parish Church. The family lived in various houses at Marford and in Wheathampstead High Street, eventually settling opposite the church at the old Ship Inn, which they re-named St Helen's. His wife was Maude Godseff, daughter of a noted plant expert who managed the orchid nurseries at The Camp, St Albans. They had nine children between 1902 and 1919, two of whom are still alive.
Unfortunately, it was said, Robert had another side to his character and had numerous liaisons with local ladies, much to the distress of his wife, who died young in 1936. Robert remarried two years later but died in 1941 and was buried at Harpenden. His first wife and their two daughters who died in infancy are buried in St Helen's Churchyard.
The picture shows Robert William Hawes Seabrook wearing his familiar straw boater, about 1935-36.
All the Seabrook children but one moved away from Wheathampstead. His oldest son, Robert William Eric Seabrook (born 1903) married and lived in Harpenden and was my father. The only one of his siblings to remain in Wheathampstead was Gerald George Seabrook (born 1904) who lived with his family at Church Street for many years. He married Gladys Rolph and their two children Robin and Jane spent their youth in the village until they married and moved away.
I have an extensive family history of the Seabrooks and would be happy to share it with anybody who is looking for information.
John Seabrook email:john.seabrook-at-talktalk.net
............................................
My great grandfather - Michael Seabrook born 25 November 1836. Died in accident on 6 October 1882. Great Northern Railway. Married to Eliza.
Records in cemetery. His siblings -
George b. 1826
Ann born 1828 (married Joseph Males Mar. 21 Maltman b. Codicote)
William 1830
John 1832 (immigrated to N.Z. ancestors then went to Queensland, Australia, then NSW)
Thomas 1835
Michael's son Herbert John Seabrook is my grandfather. He married Susie May Yarrow in Paddington, London. They immigrated to Australia approximately 1912.
Contributed June 2009
by Jennifer Brooks
Contributed Jan 2009
My great grandfather was Michael Seabrook born 1837. He was killed by a train (6 Oct. 1882, aged 45). He worked on the Great Northern Railway, and lived in the GNR Cottages in Whitewash Alley, Hatfield, Hertford. He was a Station Inspector. He is buried in the United Reformed churchyard Wheathampstead, along with his wife Eliza (who died 3 April 1897 aged 59) and son Francis (who died 15 Mar. 1889 aged 17).

His son, my grandfather, Herbert John Seabrook, Coach Painter, immigrated to Australia, after marrying Susie May Yarrow in London (Paddington district). His son, my father, Ronald Herbert Seabrook was born in Victoria. He eventually moved to NSW. I now live in Valentine, NSW, Australia. 1half hours north of Sydney. Amazing how people move across the world.
I have traced my mothers side back to the UK as well, Ireland and Scotland. My husband's side goes back to the First Fleet*. His g,g,g,g, grandmother/grandfather were convicts on the ships Alexander and Friendship respectively. Everyone wants a convict in their ancestry over here

. My mother's side is supposed to go back to Belton House but I haven't found the link yet. I am trying to trace Edward Augustus Blount and Eliza Fraser. Edward was born in Bermondsey Surrey, so I'll keep looking there.
JENNIFER BROOKS email:jenpup40-at-hotmail.com
*The First Fleet is the name given to the 11 ships which sailed from Great Britain on 13 May 1787 to establish the first European colony in New South Wales. It was a convict settlement, marking the beginnings of transportation to Australia.
The Seabrooks are a very well known name in Wheathampstead. They go back to the seventeenth century and I believe a Seabrook was once a mayor of St Albans. The Seabrooks I know about here were churchwardens and their signature often appears on manorial court records, but I hadn't heard about the station inspector member of the family.

I got to know Robert Seabrook quite well until he died about 15 years ago well into in his eighties, and once met his son who lived in Hitchin. His father had been parish overseer and church organist at St Helen's, also owning several properties in the village. Robert and his wife came to tea here once when he was in his eighties. He used to live in this house and remembered it when they had to get water from the well and kept a pet owl in a meat safe in the garage. I recorded his stories about life in the village as school boy and choir boy in the 1920s. His friend, George Hawkins, came too and they had some wonderful stories about what the mischief they got up to. Some of them are in our book "Wheathampstead Railway Recollections", now out of print.

Burials in St Helen's churchyard

Anna Maria Seabrook, wife of William is buried in the churchyard here. She died in 1910 aged 73 years. William of Lamer Farm died in 1918 aged 75. Their daughter Alice May died in 1963 aged 87 years and is buried with them.

Ada Mary, wife of George John Sabrook born July 21 1880, and George John Seabrook born Nov 11 1874, died Dec 5 1954. "Re-united".

Doris Evelyn Seabrook, wife of George William, died 15 Aug 1976 aged 69 years, also George William Seabrook, died 24 Feb 1983, aged 75 years.

Maud Seabrook /who died Dec 29th 1936 aged 59 years/ also of Gwendolyn Mary who died Oct 9th 1914 aged 6 years, 6 months/ and Pearl Madeleine who died Feb 23 1920 aged 2 years 5 months.

Gerald G. Seabrook 1905-1972/ Gladys M Seabrook 1911-1991.

Burial in the United Reformed churchyard

Michael Seabrook died Oct 6 1882 aged 45 years.. "He is not dead but sleepeth"/ also of Francis second son of the above who died March 15th 1889 aged 17 years/ also of Eliza wife of the above/ departed this life April 3rd 1897 aged 59.

Herts Militia lists give George Seabrooks as a farmer in 1772, 1778
James Seabrook as labourer at the Town (farm) from 1758-1762
William Seabrook as labourer from 1758 to 1778 (some years, not all) in Wheathampstead and the Great Cutts (a farm near Mackerye End to the north west of the parish)

I would advise you look in census returns for more information about your Hatfield branch of the family. I know that Seabrooks lived in Wheatsheaf House in the Wheathampstead high street when Robert was a small boy, as he remembered throwing a toy brick into a French horn, tuba or some such big instrument that happened to be marching by in a parade - probably for Red Cross day.

Contributed by Ruth Jeavons, Wheathampstead (Jan 2009)